Alienware's Concept UFO handheld PC shows just how mobile PCs can get with AMD's new Ryzen APUs and Intel's 10th Gen CPUs, packing gaming silicon into a PC form factor that you could slip into your pocket. Admittedly, only if you had massive pockets… Sadly the UFO is still only a concept, but there are already options for handheld PC gaming out there if you're prepared to put in either the money or the hacking efforts.
AMD's Frank Azor, the original co-founder of Alienware, took to Twitter seemingly suggesting that the prototype design being shown off at CES 2020 this week was powered by AMD, but Dell later confirmed it was powered by Intel's 10th Gen Core CPUs.
We had thought it might be something closer to the Ryzen Embedded chips released early last year, rather than the sort of eight-core, 16-thread beast exclusively getting dropped into the Asus Zephyrus G14 laptop, but that would still have given it a decent level of gaming performance. It's not the first handheld gaming PC doing the rounds in 2020, however, as the long-awaited Smach Z, itself running a 14nm Ryzen Embedded chip, is set to actually go on sale this year.
Remember when the Atari name actually meant something? We do, and the Smach Z really pulls on our nostalgic Atari Lynx heartstrings. It's like the bastard offspring born of an unholy union between a Lynx console and a Steam Controller, and actually looks pretty great to us. It's a full gaming PC, running either a custom Linux distro or Windows 10, and uses an AMD Ryzen V1605B SoC from 2018.
Who wants to see this beauty powered by an @AMDRyzen? Now you're getting it 🙂 https://t.co/uObCgsbSit

— Frank Azor (@AzorFrank) January 6, 2020
That still means it's rocking the same level of graphics as AMD is dropping into its latest Renoir APUs, namely 8 compute units of Vega GPU power. Though the modern versions, built on the 7nm TSMC node, ought to be able to run at a higher frequency than the 1,100MHz GPU component of the older chips.
That level of graphical grunt allows you to game at 720p on pretty much any modern PC game at decent frame rates and with an impressive level of detail. The Smach Z has been benchmarked running at around 40fps at Normal Settings with The Witcher 3, and around 50fps at Normal Settings in GTA V.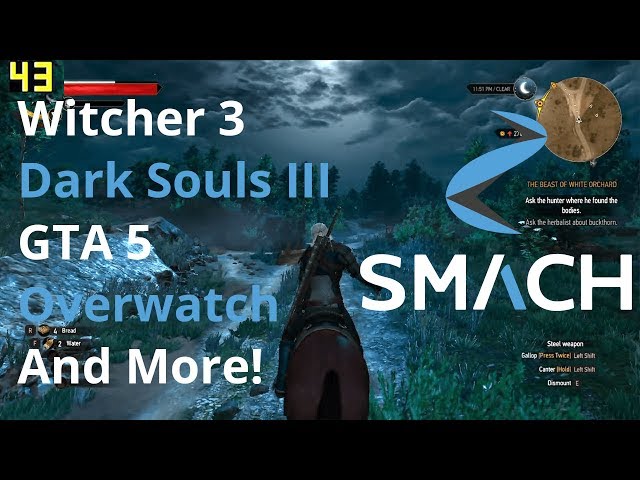 Impressive, no? Unfortunately you will need to pay for the privilege. The Smach Z is currently open for pre-orders with the cheapest version, with 4GB RAM and 64GB SSD, coming in at £599. A version with a 256GB SSD and 8GB of Dual Channel DDR4, however, will set you back just a shade under a grand.
That Nintendo Switch at £250 looks like a steal now, right? And that's going to be the problem if Alienware gets around to de-conceptualising the Concept UFO and actually delivers it into retail – it's going to cost an absolute fortune.
An actual desktop rig with the same ~£1,000 price tag would be exponentially faster; you're going to have to be really desperate to play those low-res PC games on the go in order to spend big on either the Smach Z or whatever Alienware's concept turns out to be.
A more elegant solution would be if Nintendo and Nvidia could play nice and get GeForce Now and game streaming working officially on the Switch. The hugely popular Nintendo handheld is powered by the same Nvidia Tegra X1 chip you'll find in the Shield devices, so we know it's capable, it just needs someone at Nintendo to open things up.
So many PC gamers already have a Switch as their go-to console and being able to use one with the other is the dream.
But you kinda can already… If you have a hackable, pre-patch Switch from before mid-2018 you can drop an Nvidia-specific Ubuntu distro onto your console and run a version of Linux on the Switch. It's massively hacky, and the audio doesn't work, and you run the risk of bricking both the console innards and the screen, but hey it's a start.
A better, less b0rky option would be to install a custom version of the Android TV OS used by the Shield box, such as LineageOS 15.1. Then you can get the Nvidia Games app, giving you access to both GeForce NOW and Game Streaming from your own PC. And that way lies some actual handheld PC fun even if it is streamed rather than local gaming.
You might even one day be able to get a Stadia app on their when Google finally allows Android TV to play. And even if you brick your Switch doing it – sadly you could – and had to buy a new one you'd still be better off than if you bought a Smach Z…