Ok, you've read our PCGN awards – Best Game, Technical Achievement, and all that. Those are the sort of awards you have to give out to be a respectable media organisation. But what we're really about are the alternative awards. Anyone can try and get best game, that's easy, but you can't plan for custom awards that are made to fit games that, hell, might not even have released yet.
It's awards like this that keep developers on their toes. How do they receive the honour of being selected for an alternative award? What must they do? Well, we'll give you a hint. One of this year's winners had to go to the lengths of hiring Sean Bean, putting him in a position where you kill him, and then hope that players would tweet about it. That's some next level commitment to the alternative award cause.
What can we learn from this zeal? How can we bring that next-level enthusiasm for recognition to our every day lives? We're going to try and become a one-person battle royale – which, technically, would make us the lone survivor and therefore an instant winner. Ha! Cracked it.
How will you be living your life differently during 2019 in search of winning a custom award? Let us know below in the comments.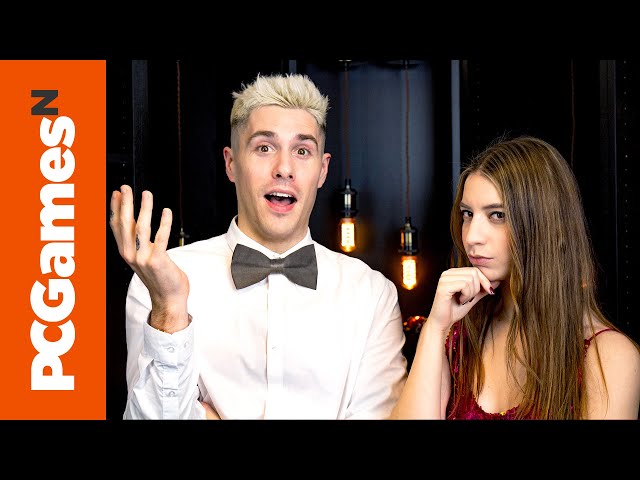 Least Half-Life 3 award: Artifact
It's been 14 years since Gabe Newell was able to have a conversation that didn't include the question 'When is Half-Life 3 coming out?'. It happens in interviews with the media, Reddit AMAs, the queue at the falafel stand. He's hounded by it the moment he leaves Valve's offices.
So, with that in mind, it's clear that Artifact is the winner of the least Half-Life 3 award. Not only is the card game decidedly not a first-person shooter featuring a silent scientist and his favourite piece of lab equipment, a crowbar, but you can assume the whole time Valve was making Artifact it knew it wasn't making Half-Life 3. That's dedication to a bit.
Fastest pivot to Fortnite award: Black Ops 4
Fortnite hit gaming in 2018 like a meteor, leaving a crater the game industry rushed to fill. Battle royales sprang up from every corner of the world, trying to get in front of an audience before the interest evaporated. But this is exactly why Black Ops 4's Blackout mode is so impressive.
one of the best modes the series has ever featured
The triple-A game space can move at a glacial pace when it comes to innovation. Games are made in multi-year cycles, franchise directors having to sign off any suggestions of change.
Yet, in just a single year, Treyarch managed to develop and release a battle royale mode that also happened to be one of the best modes the series has ever featured. Dinosaurs can learn new tricks after all.
Kiefer Sutherland award for most jarring voice actor change: Destiny 2: Forsaken
Nothing illustrates the impermanence of life better than when a fan-favourite videogame character has their voice actor changed. Sure, Proust might say it's pondering one's own existence in a quiet garden, but there's a reason no one's read À la Recherche du Temps Perdu while there was a communal shrine to Destiny 2's Cayde-6 at E3:
— Datto (@DattosDestiny) 13 June 2018
Originally voiced by Nathan Fillion, the guardian has been at the forefront of much of Destiny 2's marketing. In a po-faced sci-fi epic, Cayde-6 was the one splash of humour so, naturally, he was well-liked by fans. Though, in a change up as jarring as when David Hayter was replaced by Kiefer Sutherland to play Snake after voicing the character for 17 games, for Cayde-6's final performance Fillion was replaced by Nolan North.
Best Crab DLC: Fishing: Barents Sea – King Crab
Ok, we need to be honest here, this is largely to troll our news editor Rich. He's a huge Total War fan – you may have noticed:
View this post on Instagram
And in a year where Total War: Warhammer 2 featured giant vampire crab beasts marching across a battlefield, he might think it's a shoo-in for the Best Crab DLC award. Well, he's forgotten about the King Crab DLC for Barents Sea fishing simulator.
The expansion doesn't just add the regal crustaceans to the game's virtual oceans, it also adds a minigame where you need to separate male and female crabs. Which makes it not just a Barents Sea simulator, but also a Ben Wong in 15 Storeys High simulator. It's a sim in a sim. Give that game an award!
Honourable mention: Total War: Warhammer II – Curse of the Vampire Coast
Root cause of most Twitter bans award: Hitman 2
In this, the year of our lord GabeN 2018, it's fair to say Twitter's not great at the whole moderation thing. Death threats, rape threats, and personal attacks fly left and right. Which is why it was darkly funny to see the company become so strangely active in banning a Hitman 2 player who plotted to kill a virtual Sean Bean:
Got banned for this reference to a conputer video game but I'm back now so Sean Bean better keep sweating pic.twitter.com/0lWt3MTLPN

— TheFatConsoler (@TheFatConsol3R) 22 November 2018
Which led to people trying to sidestep the moderators in creative ways:
Finally home.

Time to deal with a character portrayed by famous actor Sean Bean in a way appropriate for a game called Hitman.

(I just don't want to get banned)

— mweis1 (@mweis100) 22 November 2018
Or making a strange stand:
#Hitman i always wanted to kill sean bean. Thank you io for letting me fulfill that dream. I don't care if i get banned fuck twitter 🖕😜

— Revolution (@Shaolin_Jay) 23 November 2018
So, thanks Twitter.
Anyway, mull on this: isn't it weird we pronounce Sean Bean as shorn been and not shorn born or seen been?
'The most ambitious crossover event in history' award: Total Warhammer II: Curse of the Vampire Coast
Sure, Avengers: Infinity War kicked things off by bringing a load of superheroes together into a single film. It was impressive but, if you think about it, superheroes are always teaming up to fight evil. It's in their nature to collaborate, like velociraptors.
You know who don't mix well? Vampires and pirates. One of them burns to a cinder in direct sunlight, the other is out at sea most of the year, under the beating sun with no shade, and what time they do spend on land is usually at the beach. The vampire pirates of Total War: Warhammer 2's latest DLC should not work, and yet the unlikely match up gives us what you can see in the image above.
Read more: Here are the best games of 2018
I guess we can give an honourable mention to that Fortnite Thanos thing.
LawBreakers' failure to launch award goes to Radical Heights
Few games as good as LawBreakers have failed to find an audience as fast as it did. LawBreakers launched in August 2017, development was halted in April 2018, and its servers were closed for good in September. It was a multiplayer shooter that had the misfortune of launching around the same time as Fortnite Battle Royale.
As it launched in 2017 it's ineligible for the 2018 award. That leaves Boss Key Productions to walk away with the prize. In April, the studio released Radical Heights, an '80s-set battle royale that our games editor Jordan still stands by being 'one of the best games 2018'. It, too, struggled to compete with Fortnite, and was cancelled one month later.