More AMD RX 5500 XT graphics cards have appeared in the EEC database, with MSI registering six different versions of the mainstream Navi GPU, including specific overclocked SKUs. Though the listing was published today it does bear saying that it also includes references to GTX 1650 Ti SKUs too, and the latest, very reliable, rumours doing the rounds suggest that there will be no such card. The GTX 1650 Super will reportedly take its place in the Nvidia GeForce stable.
AMD has nominally already released the RX 5500-series cards, but has done so in a rather strange manner. It has opted to focus initially on an OEM launch for the mainstream Navi GPUs, offering an RX 5500 card in a single MSI laptop, with other system integrators creating RX 5500-based desktop PCs.
There has been no specific mention of the release of standalone RX 5500-series cards apart from the promise that they would arrive later on this year to challenge for a position in our best grapics card list. We've long expected there to be an RX 5500 XT as well as a lower-spec RX 5500 card, though AMD has only mentioned a solitary cut-down GPU that doesn't utilise all the Navi 14 chip's cores.
Gigabyte has already taken the step of listing its own overclocked RX 5500 and RX 5500 XT SKUs, but with another major AMD graphics card partner putting the XT on the board, with MSI registering so many of them, that seems like fairly solid confirmation that once we do get card for the DIY crowd there will be a full-spec GPU on the cards too.
'On the cards.' Geddit? I'm wasted on you lot…
| | | |
| --- | --- | --- |
| | RX 5500 | RX 5500 XT |
| GPU | Navi 14 | Navi 14 |
| Lithography | 7nm | 7nm |
| Compute units | 22 | 24 |
| RDNA cores | 1,408 | 1,536 |
| Peak engine clock | 1,845MHz | 1,900MHz |
| Memory | up to 8GB GDDR6 | up to 8GB GDDR6 |
| Memory interface | 128-bit | 128-bit |
| Transistors | 6.4bn | 6.4bn |
| Die size | 158mm2 | 158mm2 |
The base RX 5500 GPU sports just 1,408 RDNA cores with 22 compute units. But the initial database entries we've seen for the AMD Navi 14 GPU, and the official chip renders themselves, all show a graphics processor with up to 24 compute units and therefore 1,536 RDNA cores.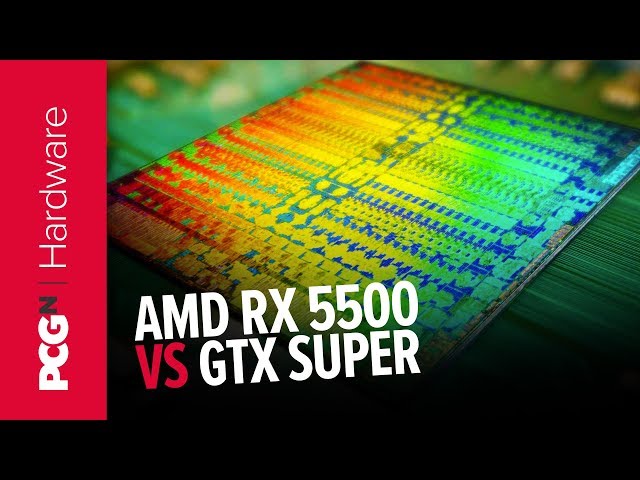 We still don't know what the pricing is going to be either on the desktop RX 5500 or the more fully featured RX 5500 XT, but if we'd have to guess it's going to very much depend on how the AMD cards perform against the upcoming Nvidia GTX Turing Super cards – the GTX 1660 Super and GTX 1650 Super – and how team GeForce price their new mainstream GPUs too.
We've heard from industry insiders that there won't be serious production of RX 5500-series graphics cards until November, so it could be quite late into the year before we see standalone GPUs formed from the Navi 14 silicon.