The vast majority of AMD's Ryzen 3000 processors are unable to hit their advertised boost clocks in a recent limited public survey, with the 12-core Ryzen 9 3900X being the worst offender with fewer than 6% of chips capable of hitting their requisite 4.6GHz clock speed.
Celebrity overclocker, de-lidder, general CPU guru, De8auer, has been doing the very public investigation, canvassing over 3000 3rd Gen Ryzen CPU owners to run a Cinebench test and submit the CPU frequency result. And the results are, in his words, "much worse than what I expected."
AMD's latest Ryzen 3000 processors have been a huge success; the 7nm CPUs are delivering unprecedented multi-threaded performance for the money and making it almost impossible to recommend similarly priced Intel chips. But it wouldn't be a new AMD product launch if there wasn't something going horribly wrong, and it's becoming increasingly clear that AMD's advertised boost speeds are well beyond the capabilities of the vast majority of the CPUs it's been shipping so far.
It's by no means an exhaustive survey, and De8auer is at pains in his video to point to the potential pitfalls of doing a public test of this sort. Users struggling to hit the advertised performance may be more ready to get involved because of their negative experience, for example, but there is also enough positivity surrounding AMD that people still want to see it do well. De8auer has also been as rigorous as he can in assessing the data that has been submitted, marking the very worst and very best results as invalid due to potential errors in testing and reporting, for example.
But even so it doesn't make for great reading. The worst result is obviously the AMD Ryzen 9 3900X, with the 12-core processor having an advertised 4.6GHz boost clock and AMD making a lot of noise pre-launch about the fact that its most powerful, and most expensive, 7nm processor was also going to be the best gaming CPU because of having the highest rated clock speed.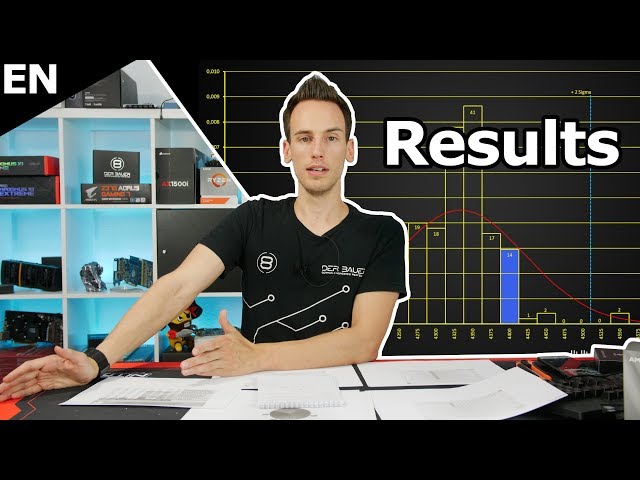 But of the 685 valid test results De8auer received fewer than 6% of those processors were capable of delivering a maximum single core boost clock speed of 4.6GHz. The vast majority are below that level – "like, below below," says De8auer. Even if the result is 4.55GHz, for example, that's still only the maximum boost, something you might only get for a second, and then it goes down even further.
It makes slightly better viewing with the other Ryzen 3000 processors… but only slightly. The Ryzen 5 3600 is arguably the best of the bunch, giving you a one-in-two chance of getting a chip that is able to hit its advertised boost clocks, but with the Ryzen 5 3600X that drops down to just 10%. Again, showing why you really shouldn't bother with the 'X' version and just stick with the 3600.
With the 65W Ryzen 7 3700X some 15% are able to hit their 4.4GHz boost clock speed, and around 25% of the 95W Ryzen 7 3800X manage to hit 4.5GHz. Though De8auer does call the 3800X a "useless CPU I wouldn't recommend to buy." Useless might be a mite tough, but it's not really one we'd recommend either.
Essentially this seems to show that the 7nm Zen 2 silicon currently isn't capable of the sorts of boost clock frequencies AMD wanted to get out of its new line of processors. While it's the top result of the lot, the fact that only 50% of the 3600 chips were capable of ratcheting up to 4.2GHz is pretty shocking.
De8auer does also refer to the Hardware Unboxed test which asserted that clock speed seemed to be motherboard and not CPU dependent. The Aorus X570 motherboards which were held up as capable of delivering the requisite boost clocks don't bear the same fruit in the survey results that have been given to him.
"It seems to be more dependent on your individual CPU," says De8auer, "the SMU version, the AGESA version, and… I don't know… the bag of rice that just fell over in China. I really don't know what the problem is."
What this is going to mean for the 16-core Ryzen 9 3950X being able to hit its own 4.7GHz boost clock when it launches this month we're not sure, but it certainly doesn't look good. With AMD currently settling out of court to the tune of $12.1m for a class action lawsuit accusing the company of false advertising around the core performance of its Bulldozer chips this isn't a good time for its advertised CPU performance to be questioned.
It does need to be said that none of this really affects our recommendation of the new Ryzen processors. All of our benchmarks results still stand in relative terms compared with the Intel competition. You're still getting fantastic multi-threaded CPU performance, completely comparable gaming performance, and superb value for money. You're just not getting a CPU that's hitting its marketed numbers. Which does call into question why AMD still choose to go ahead and advertise at these unattainable boost clock levels.
"Why did AMD feel that it necessary to advertise boost," says De8auer, "or give the people false expectations and false hope for something they cannot get? Why did they have to do 3900X 4.6GHz when they probably clearly know that most of those CPUs will never maintain the speed?"
How have you been getting on with the new AMD CPUs? Join the conversation on this article's Facebook and Twitter threads.