The AMD Ryzen 5 3600 is mighty hexacore chip. This 7nm processor built upon the scalable Zen 2 architecture is arguably as close as you can get nowadays to the perfect blend of speed and value. But is it fit to take on the best gaming CPU mantle from the unequivocally fantastic, cheaper than ever Ryzen 5 2600?
On specs and performance, the Ryzen 5 3600 is without a doubt a prime slab of silicon ripe for gamers' rigs. The Zen 2 architecture is working wonders for AMD's desktop lineup in 2019, bringing with it the benefits of the 7nm process node. We're seeing higher clock speeds, by a touch; far greater power efficiency; and a significant increase in memory compatibility.
Most important of all, Zen 2 also brings with it a hefty increase to instructions per clock (IPC) – some 15% in fact. That's only a little shy of enough extra compute brain power to close the gap between AMD and its age-old rival, Intel, in gaming workloads, and rendering the performance delta between the two companies' finest ostensibly negligible.
But bear in mind the six-core Ryzen 3000s come in two flavours: the Ryzen 5 3600 and the Ryzen 5 3600X. For the most part these chips are clones of one another – but ranking among their most notable differences includes a slight 200MHz boost clock increase and the inclusion of the more capable Wraith Spire cooler with the latter.
The Ryzen 5 3600 is packaged with the Wraith Stealth in lieu of the larger unit, a slim stock cooler capable of keeping your chip cool. You may want to upgrade to a third-party cooler for peace of mind, but there's no need to go wild with an expensive liquid cooled unit if it would stretch your budget too thin – that money would be far better spent elsewhere. Even an entry-level air cooler will often be more than enough for this particular chip.
In a similar vein, your choice of motherboard chipset can drastically affect your overall gaming PC's cost. And you're spoilt for choice. AMD's Ryzen 3000 CPUs were built with the latest X570 chipset in mind, but are also fully backwards compatible with all 400-series and most 300-series motherboards. While X570 offers some improvement, with overclocking and PCIe 4.0 largely null and void for most rocking a Ryzen 5, a cheaper motherboard seems to be the smarter choice.
AMD Ryzen 5 3600 specs
There's a single 7nm chiplet (CCD) within the AMD Ryzen 5 3600. This chip, produced by TSMC, houses dual four-core CCXs with two cores disabled for a grand six-core total. With simultaneous multi-threading enabled each processing thread is effectively doubled, making for a total of 12 threads available – the new norm for gaming chips since Ryzen arrived on the scene.
| | | | | | | |
| --- | --- | --- | --- | --- | --- | --- |
| | Ryzen 9 3950X | Ryzen 9 3900X | Ryzen 7 3800X | Ryzen 7 3700X | Ryzen 5 3600X | Ryzen 5 3600 |
| Cores/threads | 16/32 | 12/24 | 8/16 | 8/16 | 6/12 | 6/12 |
| Turbo clock | 4.7GHz | 4.6GHz | 4.5GHz | 4.4GHz | 4.4GHz | 4.2GHz |
| Base clock | 3.5GHz | 3.8GHz | 3.9GHz | 3.6GHz | 3.8GHz | 3.6GHz |
| TDP | 105W | 105W | 105W | 65W | 95W | 65W |
| Total cache | 72MB | 70MB | 36MB | 36MB | 35MB | 35MB |
| Price | $749 | $499 | $399 | $329 | $249 | $199 |
Despite the pair of disabled cores this processor has access to all the available cache across a complete CCD: 32MB. That's rounded off with 3MB of L2 cache closer to the silicon, and streamlined for greater throughput with the latest round of changes to the Zen architecture.
Also packed under the AM4 heat spreader is a cIOD chip, intermediary between the processor and platform via AMD's Infinity Fabric interconnect. The 12nm I/O chip is produced by ex-AMD fab GlobalFoundries and houses a medley of non-core silicon including the Unified Memory Controller and I/O Hub Controller. With memory now offloaded from a monolithic die, and independently adjusted to the fabric clock, AMD is able to offer speeds upwards of 5,000MHz. A considerable uplift over past generations.
The sweet spot for this disjointed memory clock is 3,600/3,733MHz according to AMD. Beyond this point the memory clock is forced to operate at a 2:1 ratio with the fabric clock, which can increase latency considerably and affect performance. For the purposes of our testing today we're running 16GB across dual DIMMs at 3,200MHz – ensuring compatibility all the way down to first generation Ryzen.
AMD RYZEN 5 3600 benchmarks
PCGN test bench: MSI MEG ACE X570/MSI Gaming M7 AC X470, 16GB Trident Z Royal/Corsair Dominator @ 3,200MHz, Samsung 970 Evo 2TB, Nvidia RTX 2080 Ti, Corsair HX1200i, Corsair H100i V2, Philips BDM3275
AMD RYZEN 5 3600 performance
The net gain overall of the investment in the Ryzen 5 3600X over the Ryzen 5 3600 is slight across our gaming benchmarks – if extant whatsoever. The Ryzen 5 3600 is equally capable across Far Cry New Dawn and Total War: Three Kingdoms, and within a frame or two in Assassin's Creed: Origins, Metro Exodus, and F1 2019.
Offering ostensibly the same gaming performance as its pricier peer, it's evident that the gaming champion of Ryzen 3000 is the cheaper of the two: the Ryzen 5 3600. Also outrunning the Ryzen 7 2700X and 2600X, this chip's domineering performance transcends CPU generations and nomenclature – a sign of Zen 2's IPC increase at work.
We see the disparity increase slightly between the Ryzen 5 3600 and the Ryzen 5 3600X in synthetic benchmarks, however. Those extra clocks are finally paying off some.
Yet across the generational divide the Ryzen 5 3600 trounces its predecessor in single-core and multithreaded synthetic workloads, yet again proving Zen 2 a welcome update on what came before.
The most pronounced improvement across Ryzen generations is in the electrical department, however. From the Ryzen 5 2600X's 226 watts under load in x264 v.5 to the Ryzen 5 3600's 143 watts, the transition to the 7nm process node has proven itself worthwhile in reducing the initial Zen design's unquenchable thirst.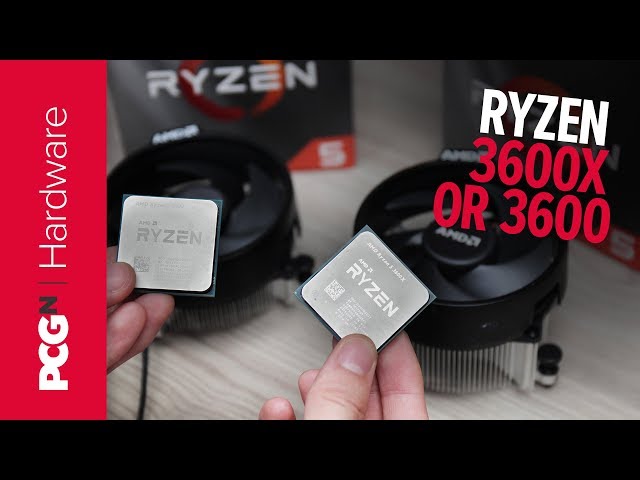 AMD Ryzen 5 3600 Verdict
The Ryzen 5 3600 looks like a shoo-in for the top gaming chip accolade at $200 (£185). With six cores and 12 threads managing to creep up to Intel's gaming lead and compete without asterisks or conditions muddying the water, the mid-range Ryzen workhorse is no longer relegated to a life as an ancillary option. Rather it's an efficient front runner bringing an unrivaled pairing of competitive gaming and production performance in a price bracket that demands more of Intel's lineup.
The only question mark that resides over the Ryzen 5 3600's claim to the throne is the recent, and finite, $133 (£125)price tag of the Ryzen 5 2600. That's an exceptional price that will surely evaporate along with any leftover Zen+ stock very soon, so grab one while you can if that takes your fancy.
Yet the Ryzen 5 3600 just about manages to seizes the throne despite the older chip's upfront value, not only as the best gaming CPU, but the all-round x86 value champion. Ryzen is dead, long live Ryzen!
AMD Ryzen 5 3600
If you're building a gaming PC from the ground up then look no further than the Ryzen 5 3600.