AMD Ryzen 7000 CPUs are almost here, with team red promising significant performance improvements versus its current generation processors. In addition to higher clock speeds and cutting edge specs, Zen 4 chips will boast a host of new features too with the introduction of AM5 motherboards.
Support for DDR5 gaming RAM and the PCIe 5.0 interface finally arrives on team red silicon with the AMD Ryzen 7000 series. This should help the company's processors keep pace with their main competition for the title of best gaming CPU, the 12th Gen Intel Core family. However, it remains to be seen whether they'll be able to fend off upcoming Raptor Lake chips.
Here's everything we know about AMD Ryzen 7000 CPUs:
AMD Ryzen 7000 release date
The AMD Ryzen 7000 release date is September 27, 2022, with four desktop processors being available at launch:
AMD Ryzen 9 7950X
AMD Ryzen 9 7900X
AMD Ryzen 7 7800X
AMD Ryzen 5 7600X
AM5 motherboards with X670E and X670 chipsets from manufacturers like Asus, Gigabyte, and others will be available in September, with more budget leaning B650E and B650 options arriving a month later in October.
AMD Ryzen 7000 price
You'll need to part with at least $299 USD to meet the minimum AMD Ryzen 7000 price, but there are more powerful options available that'll cost you extra, with the top spec Ryzen 9 7950X coming in at $699 USD.
| | |
| --- | --- |
| SKU | Price |
| Ryzen 9 7950X | $699 USD |
| Ryzen 9 7900X | $549 USD |
| Ryzen 7 7700X | $399 USD |
| Ryzen 5 7600X | $299 USD |
However, the actual cost of upgrading to the Ryzen 7000 series will be much higher than the base price of the processors indicate. Should you want to upgrade your gaming PC with one of these new chips, you'll need at the very least need a new motherboard, the prices of which are yet to be confirmed.
Additional costs may include a new CPU cooler, as Ryzen 7000 series processors will not come with a stock cooler. Thankfully, AM4 thermal solutions should be backwards compatible, but you'll want to make sure whatever you're planning to bring over can handle the chips' higher TDP.
Finally, you won't be able to use any DDR4 gaming RAM you have lying around, as the Ryzen 7000 series is only compatible with DDR5 sticks, which could further add to the cost of your upgrade.
AMD Ryzen 7000 specs
As you might expect, AMD Ryzen 7000 specs offer a significant generational improvement versus the Zen 3 equivalents. While core and thread counts remain the same, everything else about Zen 4 silicon has been given a boost.
| | | | | |
| --- | --- | --- | --- | --- |
| | Cores / Threads | Base / Boost clock | TDP | Cache (L2+L3) |
| Ryzen 9 7950X | 16c / 32t | 4.5GHz / 5.7GHz | 170W | 80MB (16+64) |
| Ryzen 9 7900X | 12c / 24t | 4.6GHz / 5.6GHz | 170W | 76MB (12+64) |
| Ryzen 7 7700X | 8c / 16t | 4.5GHz / 5.4GHz | 105W | 40MB (8+32) |
| Ryzen 5 7600X | 6c / 12t | 4.7GHz / 5.3GHz | 105W | 38MB (6+32) |
AMD Ryzen 7000 processors are the first CPUs to be built on a 5nm manufacturing process, but also feature a new 6nm I/O die that houses an integrated RDNA 2 GPU. It also acts as a controller for DDR5 memory and PCIe 5.0.
The X670E chipset will be found on the best motherboards for Ryzen 7000 processors, giving you 24 PCIe 5.0 lanes, 14 USB ports including 20Gbps and Type-C, WiFi 6e, Bluetooth 5.2, in addition to up to four DisplayPort 2.0 and HDMI 2.1 ports. Meanwhile, X670, B650E, and B650 boards will forgo some of these features in exchange for lower prices.
The first PCIe 5.0 storage devices should hit the market alongside in November, which may make AMD Ryzen 7000 processors an ideal pairing for those looking to get the most out of the best SSDs for gaming.
AMD Ryzen 7000 benchmarks
As part of its AMD Ryzen 7000 benchmarks showcase during the company's 'together we advance_PCs' livestream, team red claims its new CPUs boast "the fastest core for gamers and the most compute for creators."
Compared to Ryzen 5000 chips, AMD alleges that its new processors boast a ~13% IPC (instructions per clock uplift) and a whopping 29% single thread performance gain.
In terms of gaming, the AMD Ryzen 9 7950X should offer somewhere between 6-35% better frame rates than the 5950X according to team red's own benchmarks. Compared to the Intel Core i9 12900K, it can at best outperform the competing flagship by as much as 23% and at worst fall short by just 1%.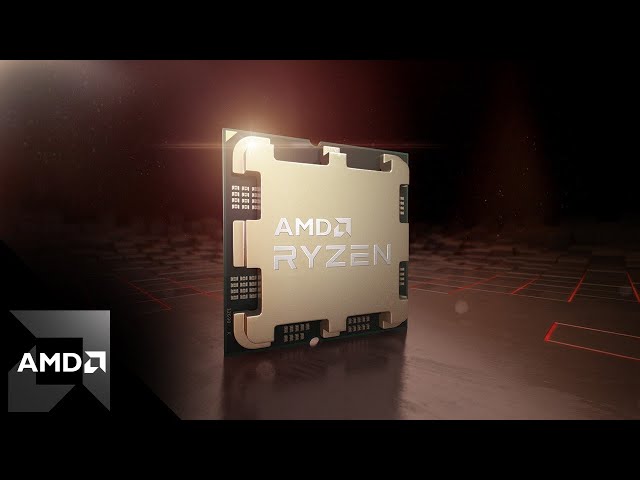 Production workloads meanwhile in applications such as Cinebench R23 and Blender see improvements of 30-48%. It's here that the Ryzen 9 7950X shines versus the Core i9 12900K, with a minimum boost of 36% and a whopping maximum performance improvement of 62%.
However, what's more exciting is that the Ryzen 5 7600X can match and sometimes outperform team blue's flagship in gaming, with the mainstream chip enjoying up to an 11% lead in F1 22.
While these AMD Ryzen 7000 benchmarks seem impressive, we'll need to wait until we can get our hands on these processors to see just how cherry-picked these results are.