BioWare has laid out a more detailed roadmap for the next three months of Anthem, and there's plenty to look forward to – if you don't mind a base game that's a bit on the flat side. BioWare's head of live service Chad Robertson says Anthem's launch is "just the first of many in fulfilling our long-term vision for the game."
The Anthem roadmap is divided into years and component 'Acts,' and so we're currently in Year One, Act One. For the remainder of February, Anthem players will be able to play in the Freeplay Events Outlaw Outrage, There Be Giants, and Shaper Surge.
March, which BioWare has labeled 'Evolving World,' will feature new Elysian Stronghold Caches that contain new cosmetics, Phase 1 of new 'Legendary Missions,' a freeplay event called Cortex Locked, and new reward items.
April's theme is 'Stronger Together,' and players will see an expanded progression system, more new items, Phase 2 of new Legendary MIssions, a new stronghold called The Sunken, a new Weekly Stronghold Challenge, as well as the rollout of leaderboards and guilds.
Finally in May we'll get to see the first real Cataclysm event, which you may have gotten a peek at if you tried freeplay mode toward the end of the open demo.
"This is just the start of a rich Live Service we'll be creating together," Robertson says. "See you in the game."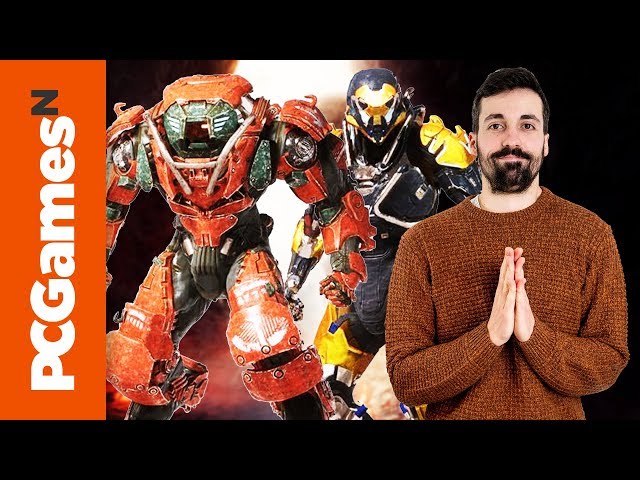 Act 2 and Act 3 have titles on the roadmap, but they're locked for now. It's clear, though, that BioWare plans to keep pumping stuff into Anthem for at least a solid year.
More like Anthem: The best co-op games on PC
Unfortunately, we haven't been terribly impressed by Anthem. In our review, Rich says that while it makes a terrific first impression and has some genuinely neat ideas, Anthem's sludgy repetitiveness mostly kills the initial feelings of awe and wonder.
But since Anthem is a 'living game' – or a 'Live Service,' to use Robertson's terminology – there's always the opportunity for it to change. It's a trick that both of Athem's big competitors, Warframe and Destiny 2, have already pulled off. Maybe BioWare can go for the hat trick.