Respawn's new Apex Legends Imperial Guard collection event arrives soon, and there's certainly some good news for the battle royale game, with the arrival of a new Mixtape playlist offering some favourite limited-time modes on a permanent rotation. However, players are already expressing disappointment in the event itself, which is "full of recolours" and includes a reimagined heirloom for Wraith while the likes of Horizon and Fuse are left wanting.
The good news first, then. Mixtape is a new "permanent playlist featuring a rotation of Team Deathmatch, Control, and Gun Run." That's fantastic to hear, as the more light-hearted Apex modes are definitely some of its most popular, so having more regular access to them is good news. You'll also be able to play the modes in custom matches – you'll need 12 players for a game of Team Deathmatch, or just six to play Control or Gun Run.
The Apex Legends Imperial Guard collection event runs March 7-12. There are 24 items up for grabs, which can be earned through the event packs or crafted using Apex Coins or Crafting Metals. Respawn has also halved the Crafting Metal prices for this event as part of its fourth anniversary celebrations, so that does make getting everything easier.
Unlock all 24 of the event items, and you'll get the new Wraith heirloom, Hope's Dawn. This kunai is a redesign of the original Hope's Dusk heirloom that was the first of the snazzy melee cosmetics to arrive in the game back in 2019. Respawn explains, "Since then, we have expanded what heirlooms look and feel like in the game," so it wants to revitalise her kunai's design with the new model, infused with crackling electricity.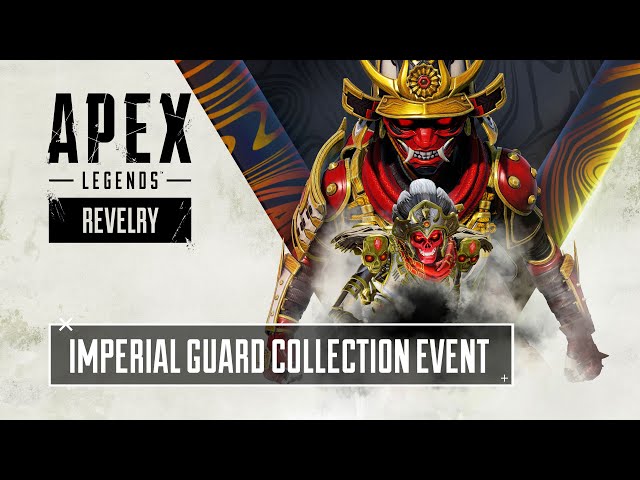 While that's nice for Wraith mains, it's certainly another sting in the tail for those who are still waiting on their own Apex Legends heirlooms – Horizon and Fuse in particular. As a firm fan of Dr Mary Somers, I'm counting the days as she climbs ever-closer towards being atop the list of longest waits for an heirloom after their arrival (currently held by Crypto, at 910 days). Respawn does tease, however, that "a legend who has been vying for an heirloom will be getting one later this season," so there's a tiny glimmer of hope in my heart yet.
Meanwhile, the comments on the official YouTube trailer are clear in their disappointment. "We've reached the point where we get an event full of recolours including the heirloom," reads the top comment, with almost five thousand upvotes. Another remarks, "I like the part where they say they've learned from the Peacekeeper recolour event and then release a full recolour event."
Even popular Apex YouTuber Marcus 'Macro' chimes in with a comment: "Wait. All the skins are recolours? Even the heirloom?? WHAAT???" While it's not quite everything, it's certainly understandable that Apex's most long-time players feel a little let down by the lack of genuinely new designs. With the Apex Legends Steam player count at its highest ever, however, at least it's an opportunity for new players to get their hands on some fashion.
As Apex Legends season 16 rolls on, take a look at our Apex Legends tier list to find out the best characters right now. If you just can't get enough of the thrill of competition, take a look at more of the best multiplayer games on PC in 2023 to fulfil that need.