There's another limited-time collection event heading to Apex Legends very soon. Titled 'System Override', the event brings a brand new mode with a twist on loot respawns, the Evo Shield, and a bunch of other goodies to grab.
The battle royale game's developer Respawn has announced the event in a press release along with a shiny new trailer, which you can check out below. System Override adds a 'Deja Loot' limited-time mode which hinges on a "system glitch" – it'll "feature the same flight path for the dropship", which means "all loot will respawn at the same location throughout the System Override Collection." Sweet.
The studio says the first week of the new mode will kick off on World's Edge, followed by the return of Legends to Kings Canyon in week two. Plus, the location of the Ring will change on a daily basis, Respawn explains – and there are plenty of items to scoop up during the event, starting with the brand new Evo Shield.
The shield is new to Apex Legends' suite of in-game items. As hinted by the 'Evo' part, the shield grows more powerful as Legends smash their way through foes. They can even surpass Epic body shields in strength. Gulp.
They also change colour along with your progression and even have a "distinctive glow", which means you – and, most importantly, your opponents – will always be able to spot one. Nice.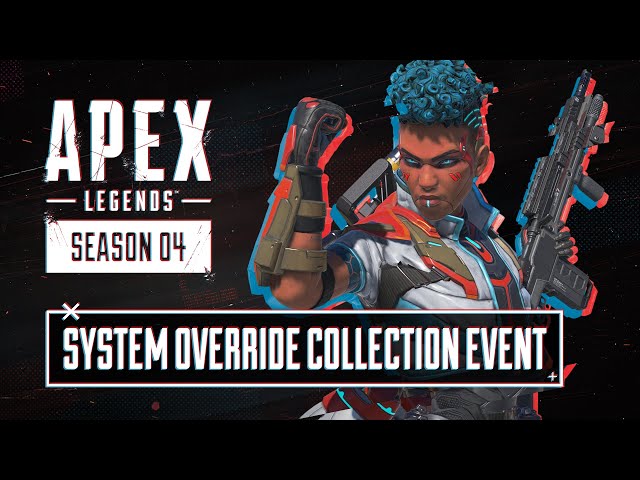 System Override also means new 'Assimilation themed Apex packs'. You'll be able to unlock a "set of 24 themed, limited-time cosmetics, in addition to six matching Legendary character and weapon skins", as well as a dozen other Epics. You can either buy these directly with Apex coins, unlock them using crafting metals, or get them through random unlocks with the event Apex packs.
Last but not least, there's an Octane Heirloom set for players who've unlocked all of the other 24 System Override cosmetics. Do this, and you'll get the set for free.
The Apex Legends System Override limited-time collection event kicks off March 3 and runs until March 17.