Asrock isn't the first brand you think of when it comes to gaming monitors, but if your display doesn't have enough screens, it has the solution. The new Asrock Phantom range debuted at CES 2023, and its flagship has a 1.3-inch Mini OLED screen built into the stand alongside its ultrawide panel.
Unfortunately, only the GIFs and logos you pop onto the tiny display will benefit from the colours only an OLED can boast, as the main screen on the ever intuitively named PG34WQ15R3A is a VA panel. As a 34-inch ultrawide at 1440p, with a 165Hz refresh rate, 1,500R curve, and DisplayHDR 400, it already faces tough competition from the best gaming monitor, so I can't knock Asrock for trying to stand out from the crowd.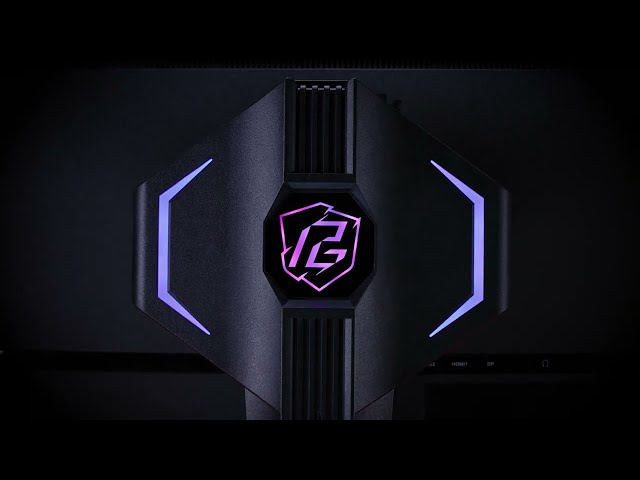 There's obviously a market for it given it follows in the footsteps of screen-clad gaming keyboards like the Asus ROG Azoth that was also announced at the event, the best AIO coolers, and even the SteelSeries Rival 710 gaming mouse. It'll just depend on the as yet unknown price as to whether you deem the tiny screen worth it. If not, there's a PG34WQ15R2B model with all the same specs that ditches the display and will undoubtedly shave some of the cost in the process.
In a more practical stride of innovation, the several models in the Asrock Phantom lineup also include integrated WiFi antennas that plug directly into your gaming PC. These are included in four of the six gaming monitors in the range and are compatible with anything from WiFi 4 to the latest WiFi 7 standard.
The goal here is to amplify wireless signals to rigs that are tucked away under desks and squeezed into obstructive corners. Nothing compares to hardwiring if you can route an Ethernet cable around to your device, but this is a blessing for those that don't have the same luxury. And if you don't fancy using it, the antenna is discrete and tasteful on the rear, so you won't get any protruding fingers making your setup look ugly.