Finding yourself in need of an Assassin's Creed Odyssey romance options list? When it comes to an Ancient Greek beast with two backs, you've got plenty of choices in this epic romp through the Mediterranean. Whether you're handsome rogue Alexios or the effortlessly cool Kassandra, you have myriad male and female companions with whom to play a game of hide the Spear of Leonidas.
The Assassin's Creed Odyssey romance system is a first for the series, and we're going to show you all the gorgeous Greeks you can get with, and how to do it. That said, when you've got the charms of your newest protagonists, it isn't especially hard to accomplish. But marriage fans be warned, your character's lust can lead them to engaging in a spot of adultery.
Your potential Assassin's Creed Odyssey romance partners can be found all over Greece, performing an active role in main and side quests. If you play your cards right then you could be in for a bit of racy relaxation – just what the doctor ordered after hunting down mythical beasts and conquering a battle royale island. Here's where you can find all Assassin's Creed Odyssey romance options.
How does Assassin's Creed Odyssey romance work?
So, how can you successfully initiate a good session of gland-to-gland combat? While we might not necessarily be the authority on that in a wider sense, we are the experts on Assassin's Creed Odyssey romance. Since we've been round the historical block a few times already we'll be showing you how to do it.
We'll use the example of the first romanceable character, Odessa. Not only is she a descendant of the legendary Greek king Odysseus but, more importantly, she's eventually keen for some love making with her new favourite mercenary. Like most of the other potential romantic encounters, her quest appears as a yellow exclamation mark on your map – you can't miss it.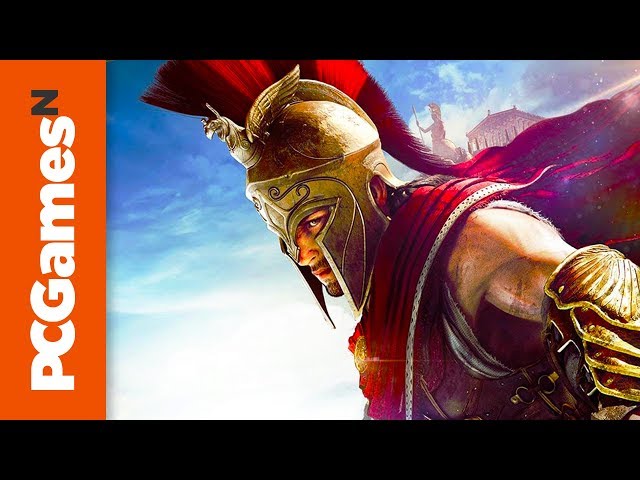 You'll need to help Odessa over multiple quests, in Ithaka and her home in Megaris. To start your epic adventure off with a bang get your sweet talk on with every chance you get. Of the dialogue choices you're given during her mission, flirtatious responses are indicated with a yellow love heart next to them. All romanceable characters will have these. If you're feeling it, go for these at every opportunity.
Once you've helped Odessa and chatted her up sufficiently the romance option becomes available. Unlike Mass Effect or The Witcher 3, you only get a Fallout-style fade to black. You don't get any extra items or experience, but it's nice to have a break from stealthing and stabbing.
Odessa isn't the only character with a series of quests that need to be completed before she can be romanced, so don't be disheartened if your allure leads to nothing the first time around. Also, know that some romance opportunities are missable if you say the wrong thing. Make sure you have regular saves at the ready in case you fail in your courtship of any of the names below.
All Assassin's Creed Odyssey romance options
There are many eligible Greeks ripe for romancing, so we've listed all Assassin's Creed romance options in full below. And since you've got a pretty enormous slice of Ancient Greece in Odyssey, we've included their relevant quests and the regions in which they can be found.
| | | |
| --- | --- | --- |
| Character | Regions | Quests |
| Odessa | Ithaka, Megaris | A Family Ordeal, The True Story |
| Zopheras | Lakonia | Not My Mother's Daughter |
| Mikkos | Lemnos | Tough Love |
| Xenia | Achaia | Priceless Treasure |
| Kosta | Lokris | Family Values |
| Roxana | Hydrea Island | Foot Race, Retribution |
| Auxesia | Phokis | Age is Just a Number |
| Diona | Kythera | I, Diona |
| Alkibiades | Attika | Oil and Love, Handle with Care, Rock Hard |
| Thaletas | Mykonos | The Thaletas Way, Paint the Sand Red, Hearts of War |
| Aikaterine | Attika | A Musing Tale |
| Eritha | Kythera | I, Diona |
| Daphnae | Phokis | The Goddesses' Hunt, The Daughters of Artemis |
| Kyra | Mykonos | Kyra with a Cause |
| Lykaon | Phokis | Helping a Healer |
For more on the stabby series make sure you check out our guide on tracking down all Assassin's Creed Odyssey Tomb locations. You won't find them without travelling to each and every question mark on the map, but it's worth doing so you can find the Ancient Stele treasures hidden within them. They award points with which to upgrade your Assassin's Creed Odyssey abilities. You can find out even more about this latest historical adventure in our Assassin's Creed Odyssey review. As you can probably glean from our evaluation of the game, we love it just as much as the majority of the Greek population does Kassandra and Alexios.