If you're a PCGamesN fan you might know that our very own Imogen Mellor joined Eurogamer on its YouTube channel this week to stream some Assassin's Creed Origins in support of NAACP and the #BlackLivesMatter movement. The stream was a roaring success, with 'Palpatinis', bonjours, and fundraising aplenty – and it's hit an incredible $16.5k in donations, as of this story.
In case you missed it live, you can re-watch the fun in its entirety via the video embedded further down this story. Imogen kicked off the stream by diving into the action-adventure game's story from the very beginning, taking the first steps of Bayek in his epic ancient Egyptian adventure. Speaking of which, Bayek's voice and motion capture actor Abubakar Salim even tuned in, tweeting it was "quite surreal watching myself being played…"
During the fundraiser stream, Imogen treated viewers to a hilarious and wide-ranging commentary, alternately spouting 'bonjours!' and apologies at nearly all enemies encountered, introducing a new idea for a Star Wars themed cocktail – the 'Palpatini' – as well as providing a heap of insight and discussion on the importance of the BLM cause.
Some of Imogen's family even made an appearance in the stream chat to say hi and offer support, alongside the many (very generous) viewers. You can get comfy, grab some snacks, and watch it right here if you want to catch it yourself: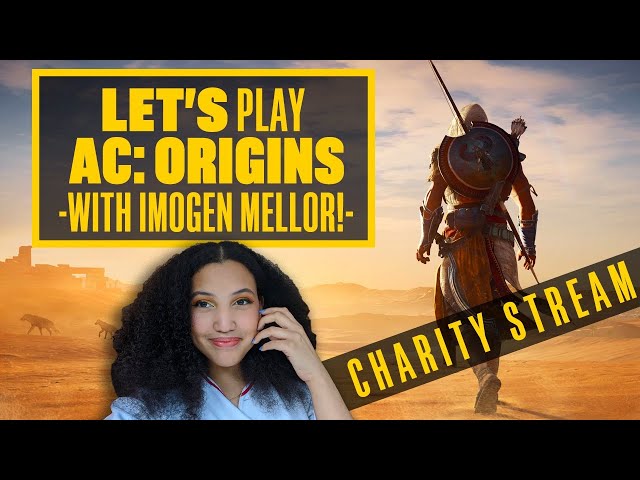 Head to the video link on YouTube here and you'll also find the option to donate to the cause is still open, should you wish to contribute.
HUGE congrats to @ImoMellor for raising sooo much money for the @NAACP yesterday and also for streaming on @Eurogamer for the first time! You were such a joy to watch.

Oh, and thanks for introducing us to the art of "bonjouring" too.

Cc: @AoifeLockhart @zoe_dels @IanHigton pic.twitter.com/rqM5EX3CmW

— Gav (@GavinUK86) June 4, 2020
"Thank you, thank you, thank you," Imogen says. "I can't say anything except thank you for your love, and your generosity. Together we raised over $16k for NAACP and I'm rather emotional. Thank you Eurogamer for the opportunity and thank you PCGamesN and team for the support."
If you want to know more about the NAACP and the excellent work it does, head to the organisation's site here. You can also read about what Network N, PCGamesN's parent company, will be doing to show that Black Lives Matter.