Fans of the Ubisoft RPG game series Assassin's Creed are working together to host a series of Twitch streams of AC Origins, AC Black Flag, Assassin's Creed 2, and others, with donations from viewers going to relief campaigns for the Syria and Turkey earthquakes.
Launching on February 22, Assassin's Creed Community Relief has already raised over $5,000 USD (£4,148 GBP), passing its original total funding goal in less than 24 hours. The project now hopes to reach its stretch goal of $10,000 in donations, and is planning a lengthy series of Twitch and YouTube streams, and giveaways, to raise money for Save the Children's relief efforts in Syria and Turkey.
"Many of us in the Assassin's Creed community have been moved by the heart-breaking devastation in the aftermath of multiple earthquakes in Turkey and Syria," Assassin's Creed Community Relief says. "Our goal is to mobilise Assassin's Creed fans around the world to contribute to our fundraiser for people impacted by the earthquakes and their after effects.
"Donations will go towards Save the Children, who are providing on-the-ground support to regions affected by the earthquakes. Homes, buildings, and essential infrastructure have been damaged or destroyed, and children are in need of urgent support to access food, shelter, and warm clothing."
Between February 22 and March 7, Assassin's Creed Community Relief has organised a variety of AC-related Twitch and YouTube streams. Some of these are straightforward 'let's plays,' including marathon sessions for the original Assassin's Creed and AC Revelations. Others are more specific, offering narrated, historical tours through the sandbox game series' most-famous locations.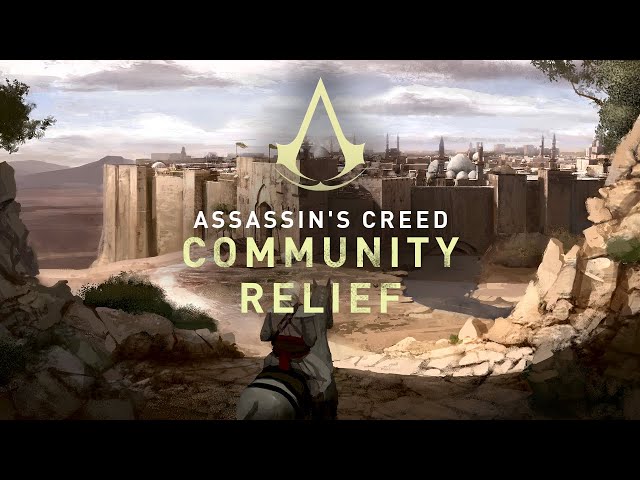 The Relief project is also offering a series of giveaways, including AC art books and game download codes. The higher your donation, the more and bigger giveaways you become eligible for, with two Assassin's Creed collector's boxes, never available on general sale, serving as the grand prizes.
On February 6, southern and central Turkey, and northern and western Syria were struck by a 7.8 magnitude earthquake. As of this writing, the death toll stands at over 49,000. Charities including Oxfam and UNICEF have mobilised funds to help those in need.
You can follow Assassin's Creed Community Relief at its official website, where you can also make a donation to Save the Children. Alternatively, you can go straight to the Save the Children donation portal.