The first of Intel's Z390 motherboards have made it onto our test bench. We started out by putting the opulent Asus ROG Maximus XI Formula through its paces to see what the new 14nm chipset brings to the table. This initial wave of Z390 motherboards has made it just in time for the launch of Intel's next-gen 9900K and 9700K CPUs, and will displace the Z370 chipset atop of the Coffee Lake 300-series stack.
Ostensibly replacing Z370 – the last bastion for 22nm chipsets – after one year at the top, Z390 marks the completion of the 14nm 300-series motherboard lineup. That move to 14nm production for almost its entire Xeon and Core lineup has the potential to cause some disruption for Intel in the coming months, and its CEO, Bob Swan, recently confirmed its fabs are already under considerable strain.
But that hasn't deterred mobo manufacturers from offering an expansive lineup of Z390 motherboards. The Maximus XI Formula is one of many Asus boards on the slate. Its signature feature is the hybrid VRM liquid cooling block integrated directly onto the board, hoping to convince liquid cooling aficionados and serious overclockers into making the switch to the latest chipset.
The Z390 chipset itself offers only a modicum of upgrades over the Z370 chipset, however. Aside from USB 3.1 Gen 2 ports – the four I/O, and one internal of which are now baked into the chipset itself – there have been very few alterations made to the Z370 chipset that it's set to replace. "That's it," as Asus senior product manager Mark Chen remarks in regards to the native changes coming with Intel's Z390 chipset.
Most of the neoteric functionality on the Maximus XI Formula has been a result of Asus' own implementations. The company has considerably augmented the Maximus XI Formula over its predecessor, not the least of which is implementing artificial intelligence – suitably acquiescing to 2018's favourite buzzword.
The Maximus XI Formula comes with AI overclocking functionality baked right into the BIOS. This new functionality rates your CPU for 'silicon potential' – with our i7 8700K a measly 71% of its full efficacy. Your CPU cooler is similarly assigned a score based on its chilling proficiency. This data is fed through the sentient mobo, which utilises its artificial brains to churn out ever-adapting voltages and frequencies that it believes your CPU and cooler can cope with.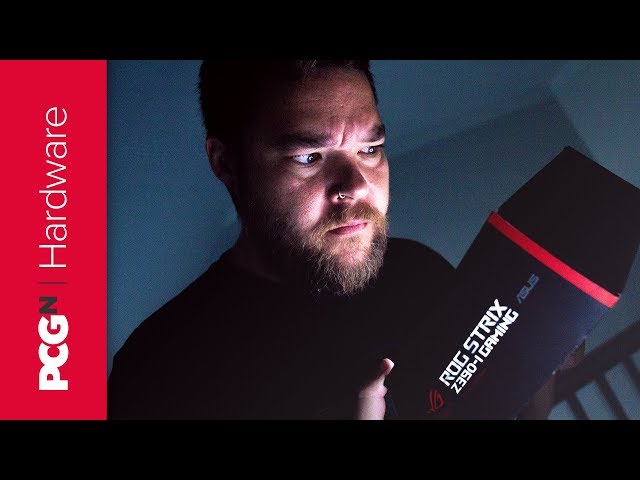 Asus is confident this feature will, at least, match a manual overclock. Our i7 8700K sits comfortably at 5.2GHz / 1.395V, and the AI managed to match it clock-to-clock at an almost identical 1.398V. While I resorted to manually setting an overclock afterward – that's part of the fun – this functionality has proven useful in mitigating some of the initial guesswork.
| | | |
| --- | --- | --- |
| | ROG Maximus XI Formula | |
| Form factor | ATX | Mini-ITX |
| Chipset | Z390 | Z390 |
| Memory support | DDR4 – up to 4400MHz | |
| Expansion slots | 2x PCIe 3.0 x16, 1x PCIe 3.0 x4, 1x PCIe 3.0 x1 | 1x PCIe 3.0 x16 |
| Storage | 2x M.2 PCIe x4, 6x SATA 6Gb/s | 2x M.2 PCIe x4, 4x SATA 6Gb/s |
| | | |
| WiFi | | Intel Wireless-AC 9590, 2×2 MU-MIMO |
| LAN | Intel I219-V Gigabit, Aquantia AQC-111C 5G | |
| Audio | ROG SupremeFX S1220A 8-channel codec | ROG SupremeFX S1220A 8-channel codec |
| USB | 3x USB 3.1 Gen 2 Type-A, 1x USB 3.1 Gen 2 Type-C, 6x USB 3.1 Gen 1 Type-A | 2x USB 3.1 Gen 2 Type-A, 2x USB 3.1 Gen 1 Type-A. 1x USB 3.1 Gen 1Type-C, 2x USB 2.0 |
| USB internal | 1x USB 3.1 Gen 2, 4x USB 3.1 Gen 1, 4x USB 2.0 | 1x USB 3.1 Gen 2, 2x USB 3.1 Gen 1, 2x USB 2.0 |
| RGB lighting | | |
| Fan headers | 8x 4-pin | 3x 4-pin |
Aside from Skynet, the Maximus XI Formula has been suitably kitted out for serious overclocking credentials – by the looks of it there's a 10 phase VRM available on the board – likely configured for 8+2 operation – and an exhaustive list of overclocking hardware and software. But it's not all about overclocking, as the Maximus XI Formula also features dual LAN connections via the I/O – one via Intel's I219V controller and another thanks to an Aquantia AQC-111C 5G port. Bluetooth has similarly been updated from V4.2 to V5.
Memory compatibility is also now officially rated up to 4400Mhz, up from 4133MHz of the Z370 board, and the same 'multi-core enhancement' feature has been carried over from Asus Z370 boards. That means our i7 8700K runs at 4.7GHz straight out of the box – a trick that a few motherboard manufacturers have been implementing since Coffee Lake to boost all-core turbo boosts up to single-core turbo frequencies.
The Z390 chipset, for its lack of major updates, performs almost identically to the Z370 chipset it replaces with the 8th Gen i7 8700K snug in the socket. Memory, storage, and CPU performance is up there with the best Z370 boards we've had on the bench – but little to no better.
PCGamesN Test Rig: Nvidia GTX 1070, 16GB Crucial Ballistix DDR4, Samsung 860 Evo 4TB, Samsung 960 Evo 500GB, Corsair HX1200i, Philips BDM3275
Asus has raided the armoury for the Maximus XI Formula, too. This motherboard is dressed up to the nines, complete with full rear, chipset, and audio plating to keep those precious capacitors safe. Dual M.2 slots also lie beneath that impenetrable shell, equipped with thermal pads to wick away the heat from your SSDs during large transfers. That equates to roughly 10% cooler temps once installed.
The same audio hardware, SupremeFX S1220 codec and ESS ES9023P DAC, has been carried over from the Maximus X Formula. There's been similarly noteworthy attention paid to audio quality on the Maximus XI Formula, driving clean audio whether in-game or listening to music.
Asus has packed a lot of extra features into the Maximus XI Formula over the previous generation. Seriously, this board weighs a hyperbolic ton. The functionality integrated into the Maximus XI Formula is probably more than what the average consumer will make use of, but this board, built for performance and style, is a strong entry into the lineup for those that have money to splash around. Speaking of money, the board will cost £423, roughly £40 more than the Z370 Maximus X Formula.
But aside from Asus' enhancements, the Z390 joins the market as a marginal improvement over Intel's previous Coffee Lake chipset with current-gen Intel processors in tow. We can't speak for eight-core performance just yet – which will likely make for a grand pairing alongside the Maximus XI Formula – but unsurprisingly, the chipset offers little for Coffee Lake owners already running Z370 boards or gamers planning a new build around an 8th Gen chip – at least not until Z390 prices settle.
But just when prices and stock will settle is a point of contention. We have heard that Asus will maintain a supply of Z370 motherboards due to fears of Intel's 14nm shortcomings affecting its supply chain. In that case, Z370, fending of displacement by Z390, could remain the best value boards for the 8th Gen until the situation changes over at Intel.
The Asus ROG Maximus XI Formula offers plenty of new and improved features for gamers willing to spend serious cash on a new motherboard. However, an eight-core chip is the only real excuse for picking up a Z390 motherboard, with little more of worth included to convince 8th Gen chip owners to make the jump to the top tier.
7