Mini-ITX motherboards are often crowd-pleasers. Indeed, there are few motherboards we get more excited to whack on the test bench than these dinky mini-ITX numbers. The Asus ROG Strix Z390-I Gaming is no different. There's something about a miniscule motherboard packing Intel's latest Z390 chipset and rocking an eight-core / 16-thread CPU that we can't resist.
These new motherboards are destined for greater things, specifically eight-core processors by the name of the i9 9900K and i7 9700K. But with backwards compatibility across all Coffee Lake chips enabled, a feature that was noticeably missing from the Z370 chipset last year, they can also be paired with any 8th Gen chip, such as the i7 8700K we've got raring to go in the test bench.
The Z390 chipset has just launched within a healthy haul of motherboards, and this long-rumoured platform offers some small improvements to the Z370 platform that came before it. Without much change on the chipset front, updates to the chipset have been sparse, it's been largely up to Asus to convince gamers that these brand new motherboards are worthwhile.
The Strix Z390-I packs a lot into that small footprint. Every inch of this motherboard is plastered with precious componentry intended to keep your CPU and memory happy, and offer some of the best functionality on the market. It's the same 1151 socket as found on previous 300-series motherboards, and the two DIMM slots support DDR4 up to a blistering 4,600MHz.
| | | |
| --- | --- | --- |
| | ROG STRIX Z390-I GAMING | |
| Form factor | Mini-ITX | ATX |
| Chipset | Z390 | Z390 |
| Memory support | DDR4 – up to 4600MHz | |
| Expansion slots | 1x PCIe 3.0 x16 | 2x PCIe 3.0 x16, 1x PCIe 3.0 x4, 1x PCIe 3.0 x1 |
| Storage | 2x M.2 PCIe x4, 4x SATA 6Gb/s | 2x M.2 PCIe x4, 6x SATA 6Gb/s |
| | | |
| WiFi | Intel Wireless-AC 9560, 2×2 MU-MIMO | Intel Wireless-AC 9560, 2×2 MU-MIMO |
| LAN | Intel I219-V Gigabit | Intel I219-V Gigabit, Aquantia AQC-111C 5G |
| Audio | ROG SupremeFX S1220A 8-channel codec | ROG SupremeFX S1220A 8-channel codec |
| USB | 2x USB 3.1 Gen 2 Type-A, 2x USB 3.1 Gen 1 Type-A. 1x USB 3.1 Gen 1Type-C, 2x USB 2.0 | 3x USB 3.1 Gen 2 Type-A, 1x USB 3.1 Gen 2 Type-C, 6x USB 3.1 Gen 1 Type-A |
| USB internal | 1x USB 3.1 Gen 2, 2x USB 3.1 Gen 1, 2x USB 2.0 | 1x USB 3.1 Gen 2, 4x USB 3.1 Gen 1, 4x USB 2.0 |
| RGB lighting | | |
| Fan headers | 3x 4-pin | 8x 4-pin |
XMP takes care of the memory, and Asus' 'multi-core enhancement' boosts our i7 8700K up to 4.7GHz all-core by default. However, there's also Asus's latest AI overclocking feature, built to take some of the hassle out of finding the boundaries to how high your CPU can clock and at what voltage.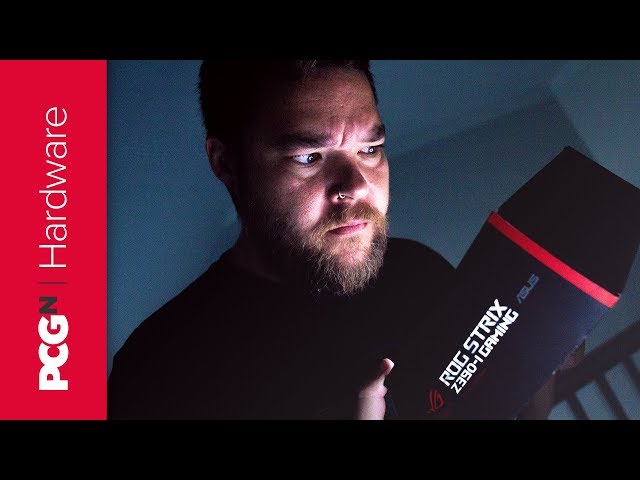 Instead of messing around with constant testing, the AI tool keeps an eye on your CPU and cooler, measuring their potential, and offers up educated guesses as to what voltage will be required to reach your target frequency. You can even leave your own mini HAL to take care of everything for you with Asus's 5-way optimisation if you so please.
Performance, however, is largely the same as the many Z370 boards we've had across our bench this last year.
PCGamesN Test Rig: Nvidia GTX 1070, 16GB Crucial Ballistix DDR4, Samsung 860 Evo 4TB, Samsung 960 Evo 500GB, Corsair HX1200i, Philips BDM3275
There's only a single PCIe 3.0 x16 slot on a board of this size, which means this board won't be seeing any Nvidia NVLink action in its life, but you don't have to forgo much else for this compact form factor. Even with serious size constraints, there are still two PCIe 3.0 x4 M.2 sockets for multiple PCIe SSDs or Intel Optane drives.
Since a sound card is out of the question, solid onboard audio is even more crucial. Luckily, the Strix Z390-I features the ROG SupremeFX S1220A codec, common across the ROG lineup. This offers decent sound and remains clear and free of static despite the board's compact design.
Networking is carried out by the Intel Wireless-AC 9560, and is joined by the Intel I219-V Gigabit LAN controller. While a wired line is preferred for desktop setups, that WiFi offers a lot of flexibility with its 2×2 MU-MIMO 802.11 a/b/g/n/ac support. There's also Bluetooth v5 built in so you don't have to waste a precious USB port with a needless dongle.
Speaking of USBs, one of the few bonuses of the Z390 chipset is native USB 3.1 Gen 2. There's three of these ports, two Type-A from the rear I/O, and one internal for the front panel. There's also USB 3.1 Gen 1: three from the I/O (including one Type-C), and two internal connectors. That leaves two USB 2.0 ports from the I/O and another two on the board.
The Z390 / eight-core CPU combo seems like a done and dusted deal for Chipzilla fans dying to get their hands on the 9th Gen processors. However, with similar performance to the boards that came before it, the £217 price tag of the Asus ROG Strix Z390-I Gaming will be the deciding factor as to whether this motherboard is worth investing in or not for 8th Gen builds.
At roughly £30 more expensive than the Asus Strix Z370-I gaming, the Z390-I is not a huge jump in price if you deem any of the added functionality worthwhile. But that's a big if. The Z370 platform has been around a long time, and potentially for some time to come if shortages affect Z390 supply. There's still a lot of functionality on offer with even the older boards to match what's new in Z390 at six-cores or less.
This mini-ITX board offers some genuinely useful functionality over the Z370 board that came before it. While it might not find much value among 8th Gen builds for the time being, it's a top pick for miniature eight-core monsters.