The auto-battler wars are well underway on PC now, with Valve's Dota Underlords and Riot's Teamfight Tactics currently duking it out for supremacy. But the studio that kicked this trend off to begin with is getting ready to enter the fray. Drodo Studio, the team of Chinese developers who created the original Auto Chess mod for Dota 2, have released a playable alpha of Auto Chess, and you can play it now if you pre-registered.
The game is available exclusively on the Epic Games Store, which in this case may have to do with the fact that Valve decided to make its own version of the game using Dota 2's heroes, which Valve owns. Drodo, meanwhile, already has a standalone version available for mobile devices that it developed with Dragonest, and now it's gearing up to launch a version for PC as well, with all new heroes, items, and lore.
If, like me, you neglected to sign up for this one ahead of time, don't worry. Youtuber MMOJackX57 has uploaded a video showing off some of the alpha PC gameplay, so you can get a sense of how it looks compared to Underlords and TFT.
Here's the video: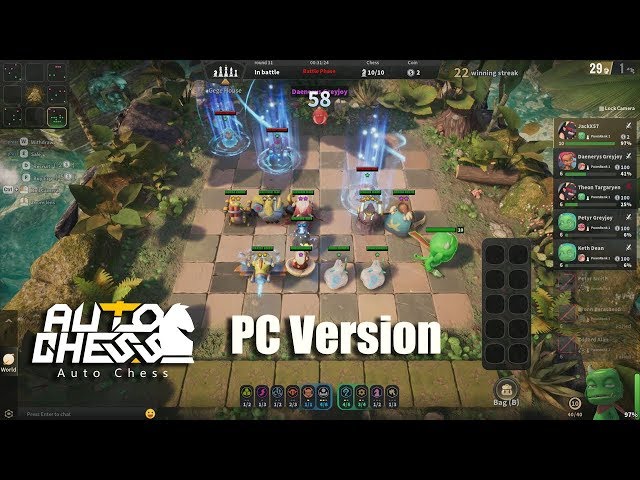 If you've played Drodo's mobile Auto Chess, this will look pretty familiar. Axe has been replaced by Redaxe Chief, Lycan is now Werewolf, and so on. But Drodo's Auto Chess has its own style and look that's distinct from Valve's and Riot's auto-battlers, and perhaps its own particular appeal as well.
For my money, it's still the closest of the three to the original mod, for better and for worse. You'll notice in JackX57's video that units don't auto-combine when you have three, for instance – you've got to manually place them all on either the board or your bench.
At any rate, you can still sign up for the alpha at the Auto Chess page at the Epic Games Store. You can think of it as the PUBG of auto-battlers.