Battlefield V is your chance to be a World War II hero. Whether you're strafing targets in a Spitfire soaring over the fields of France, racing to patch up wounded teammates on the barren plains and bare rock of North Africa, or silently dispatching German lookouts as a Norwegian resistance fighter on skis, DICE's epic shooter delivers spectacular tales of courage and bravery every time you play.
You needn't be an FPS master or tactical genius to excel. Here, four different roles let you play to your strengths. The assault class is the tip of the spear, leading the charge with semi-automatic rifle spray and no shortage of guts; medics aren't far behind, ready with reviving syringes and medicine to keep teammates fighting fit; recon units hang back to drop foes from afar at the smart end of a high-powered rifle; and when they're not restocking teammates with ammo packs, support players menace vehicles with deadly mines. All four classes are vital.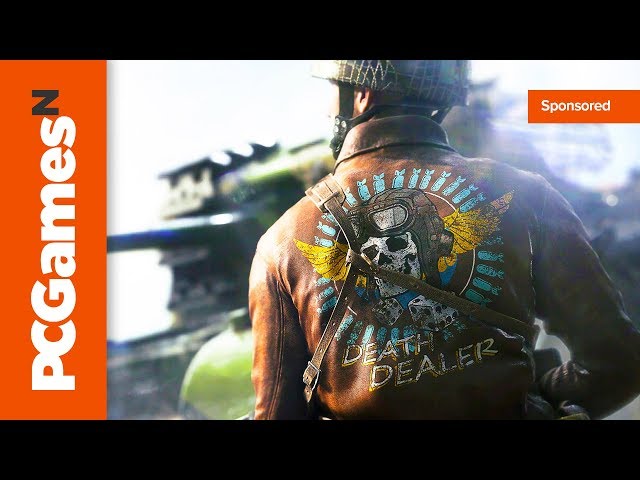 Battlefield V isn't merely about getting kills. It's about serving the war effort however you can. Your rewards for doing so are historical skirmishes so intense that every fight feels purpose-built to make you the focal point of the biggest conflict in history. They're not, of course, because everyone is the focal point.
That's true in multiplayer, in which up to 64 players clash across eight stunning maps – spanning Dutch metropolises, French farmsteads, and Norwegian mountains – and singleplayer, where you'll experience spirit and sacrifice through the eyes of several diverse WWII warriors.
The first in our series of Battlefield V Unsung Heroes stories concerns the assault class. Watch as our grenadier scraps with Axis forces on the mazey streets of Rotterdam, makes a death-defying leap from the top of a teetering train carriage, and has an all-too-close call with a Panzer tank.