Battlefield 5's single-player mode, War Stories, has been unveiled in a new two-minute trailer, with narration by the smooth, rich tones of British actor Mark Strong. Personal highlight: it looks like we'll get to ski.
The trailer description indicates that these stories will see you "resist German occupation in Norway, sabotage behind enemy lines as an unlikely English soldier in Under No Flag," and "fight for a home you've never seen in Tirailleur" – a 'Tirailleur' was a type of French colonial infantry recruited from Senegal and, later, across France's African territories.
The description also mentions the much-anticipated German war story, The Last Tiger, which casts you as a member of a Nazi tank crew "as they question why they fight."
Rather than follow one lengthy single-player campaign, Battlefield 1 split its single-player into six short campaigns called War Stories. Developer DICE has confirmed that Battlefield V will launch with three such stories (not including the prologue), and that The Last Tiger will arrive later, in December. Given that today's trailer also has a few shots of aerial dogfighting and maritime action, which don't obviously fit in any of the above, perhaps Battlefield V's War Stories will be lengthier and take us to more places?
In any case, it all looks gorgeous and is set to suitably dramatic music – check it out below.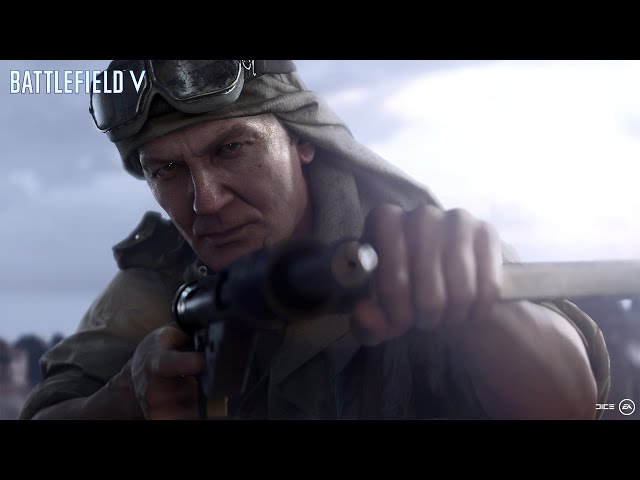 Exciting stuff, eh? As an added bonus, check out this tweet from yesterday, featuring a few outtakes from Mark Strong's sessions in the recording booth. Don't click if you're using speakers in an office, nursery, nunnery, or other sensitive environment: the language is strong from the start.
Single Player reveal, coming tomorrow. Mark Strong is ready. pic.twitter.com/JrtleCVAl2

— #Battlefield V (@Battlefield) October 15, 2018
If this is getting you hyped, you can click here to learn all you need to know about Battlefield 5's release date (hint: it's November 20), game modes, classes, Firestorm battle royale mode, system requirements, and plenty more. Hopefully gaming's other massive shooter franchise can match the commercial success and rave reviews of Call of Duty: Black Ops 4.