Bees are great, and if you don't think so you can buzz off. Without these hive-dwelling heroes, we'd all be dead. They are the most important pollinators on the planet, vital in making flowers bloom and fruit get all delicious. And that's not even mentioning the way they chase off wasps at picnics like tiny venomous guard dogs, or the honey industry over which they preside with their savvy business skills. These are all qualities Bee Simulator is keen to replicate and celebrate.
Developed by Varsav Games Studio on Unreal Engine 4, it's due on PC in winter 2020. Ignoring the fact this is crying out for a spring release, which is universally known as the season bees are most up for it, Bee Simulator is bound to get a swarm reception. That's because it's just as much a fetching flight game as an educational tool, working to popularise an insect that we don't treat kindly enough. This game aims to help reverse the decline in bee numbers.
To find out how, we spoke to Varsav founder and vice president Lukasz Rosinski.
Before we get into that, though, here are some bee facts: one honey bee will travel up to five miles for food, and visit up to one hundred flowers in a single trip. En route it clocks speeds of 15-20mph, and 12mph when returning with nectar. Bees also have five eyes. The more you research these insects, the more impressive they become. A game celebrating bees in complete earnestness, then, is both joyous and long overdue. So where did the idea come from?
"Bees are very important for our existence on this planet," Rosinski tells us. "They are responsible for most fruits, vegetables, nuts, and even coffee. We really need them to keep the variety of food, and in consequence a balanced diet. The idea to create Bee Simulator was born when I was reading my then three-year old daughter the Book of Bees by Polish author Piotr Socha. I came to the conclusion that a bee's life is a ready scenario for a computer game."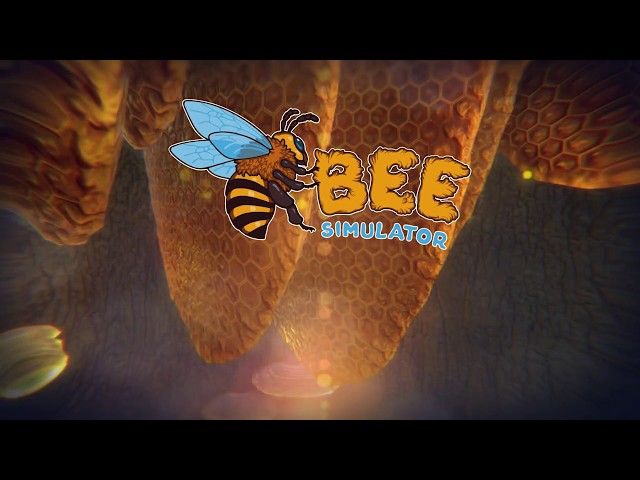 Rosinski and his team gamify the life of a bee well. There are furious fights with angry wasps, and butt-waggle dances with bee buddies. There are checkpoint races in the optional co-op feature, and a peaceful exploration mode in which you can beat your wings around an open world. Bees have appeared in games before (Buck Bumble, Bee Movie Game, Minecraft, etc), but Bee Simulator is among the few to actively target education.
From day one, Varsav's developers worked with beekeepers to keep the action authentic. For example, one of the main threats bees face today is a lack of food sources. As urban areas destroy green spaces, delicious flowers disappear. In Bee Simulator, your main aim is attempting to root them out in a large area reminiscent of New York's Central Park. It's hard not to empathise with your tiny bee's plight as it darts around looking for the golden liquid that will keep it and its family alive.
"A worse situation is in our gardens, when we regularly cut the grass and have only some green, not blooming bushes," says Rosinski. "In that case they don't have anything to pollinate and, as a consequence, to eat. We should have more flowers on our balconies and gardens. We really like the idea in some cities to exchange lawns for flower meadows." Maybe, just maybe, next time you leave the house, you'll even throw your bee buddies a bone by sprinkling a few seeds here and there.
Given the perspective switch, Bee Simulator is no straightforward game to make. The shrunken scale gives Varsav no shortage of headaches. As Rosinski tells us, "Bee Simulator is definitely a unique project, taking into consideration the perspective and scale of our main character. Most of the projects in the gaming industry are based on humans as the main character. When we have such a small object, we need the best possible solution, and our programmers decided that Unreal Engine is the best for our different perspective game."
This is a game from a bee's eye view. Extreme close-ups of everyday objects – pears, soda cans, lollipops, a scared woman's dress – need to stand up to scrutiny. Throw in the wide open environment of your urban park hangout, populated as it is by fairs and picnics and swaying grass, and that becomes difficult. Here's where Unreal Engine 4 comes in.
For Rosinski, its level streaming makes it invaluable. "World composition helped us with level streaming issue, which concerned huge performance drops. Additionally, the new version of the engine has a tool to create LOD for skeletal meshes, which helps a lot during the optimisation process, and didn't force us to use additional, external tools." If you're not aware of the technical terms, LOD stands for 'level of detail'. Essentially, the distance to an object determines its texture quality and resolution. So the further away you are, the less good it needs to look, and the better your PC's performance is.
As well as level streaming management, another great aspect of Unreal Engine 4 is its Blueprints system. This makes scripting a visual process, so instead of writing out code line by line, you intuitively connect wires and drag and drop nodes. Rosinski loves a bit of that. "At the beginning of the project, we had small work forces on the programming side. That's why we needed to involve designers in creating some of the mechanics. The Blueprints system was an answer. Thanks to that, we were able to make a lot of stuff quicker and we didn't need to involve the code side of the team." Creating Bee Simulator in Unreal Engine 4 is proving fast and fruitful, just like the life of a honey bee.
Let's end with some more bee facts. There are between one trillion and five trillion domesticated bees globally, existing in domesticated hives of 80-100 million. It takes two million flowers make 1lb of honey. Queen bees don't die when they sting.
Isn't that interesting? If you want to know more about the world of bees, Bee Simulator is the perfect place to start.