*Extremely Morpheus voice*: What if I told you that back when they were one of the most dominant genres in PC gaming, "point-and-click adventures actually represented the cutting edge of graphics technology?"
Those are the words of Charles Cecil, creator of such point-and-click icons as the Broken Sword series and Beneath a Steel Sky. It's a strange thought in today's world of near photorealistic open worlds, but for proof, you only need compare the glorious colours and painting-like backdrops of Cecil's worlds – and genre stablemates like Discworld and Monkey Island – to the blocky graphics of shooters, RTSes, and platformers at the time.
This explains why Cecil is keen to ensure Beyond a Steel Sky, his long-awaited sequel, remains a showcase for graphics technology just as its forebears were, and in this quest, Unreal 4 was his engine of choice. "I wanted to carry forward the charm and the core values of the original and translate them into a hugely ambitious adventure that once again leveraged cutting-edge technology," Cecil tells us. "We wanted to use the most advanced solution available to create a game that looks graphically unique and reinvents the genre's gameplay. Our choice of Unreal Engine 4 allows us to raise the bar, with the aim of developing our most ambitious adventure game to date."
Unlike many developers we speak with for this series, the team at Cecil's studio Revolution was both highly experienced – with 30 years of developing adventure games to its name – yet also new to Unreal. "Initially we found it hard to source level designers with experience in UE4; universities and colleges often choose to teach their students using simpler engines," Cecil says. Fortunately, Revolution was able to get to grips with UE4 with a little help from its vast developer community.
The helpfulness of that community is well-documented in this series; we've heard many stories of thorny technical problems de-thorned with its help. We are less often told about what Epic itself does to cultivate that community. "Epic was able to offer comprehensive support, such as hosting Unreal Fest, to which we sent a number of team members," Cecil says. Unreal Fest is a growing annual gathering of UE4 game developers, all networking, sharing knowledge, and hosting presentations and panels.
Once Revolution were up and running, the studio found "UE4 was able to provide a comprehensive base on which to build most of our technical requirements," Cecil says, although the team "did choose to reach out [to facial animation software company Speech Graphics] for lip syncing. Whilst simple lip flap was a solution, it wouldn't have met our aesthetic quality objectives."
Many of the old point-and-click adventures – including Beneath a Steel Sky, but also the first Discworld and Monkey Island – were known for a particular and lavish pixel art style. With the likes of Discworld 2, Broken Sword, and Day of the Tentacle, this look had evolved into that of a colourful children's cartoon, like you might see on Nickelodeon on a Saturday morning. But in an era where highly realistic graphics are possible, it may seem a lofty challenge to create a successor to one of the classics of this genre that can be true to its legacy and yet also remain a showcase for graphics tech.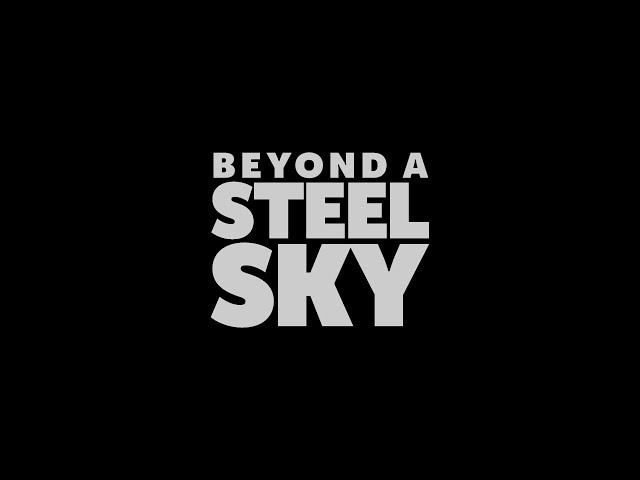 The trailer for Beyond a Steel Sky shows how Revolution is aiming to tackle this challenge. The world is fully 3D and explorable, but rendered in a style that recalls a comic book – a little like Borderlands, but more subtle (which, let's face it, is a low bar to clear).
"The game is being developed in partnership with Dave Gibbons, the artist and co-creator of the classic graphic novel Watchmen," Cecil says. "Dave's distinctive style guided our ambition to recreate the look and feel of an interactive comic book." This style is achieved through ToonToy, a post-processing technology custom-built by Revolution's Emanuele Salvucci, which includes an image-processing technique called Canny edge detection.
"We initially implemented Canny at the end of 2016," Salvucci tells us. "At that time Unreal was version 4.11/12 – now we are almost at 4.25. To our knowledge, this was the first ever implementation of the [Canny edge detection] algorithm in Unreal, in which materials are created by means of 'networks of nodes', rather than through 'programming', in order to be 'portable'. While Canny is a well known image-processing technique, it is surprisingly hard to find a working, modern implementation of it in real time, so we essentially wrote the algorithm from scratch.
More like this: The best adventure games on PC
"We chose this algorithm because it gives a unique look to line rendering. One of its special features is that it is able to provide exactly one-pixel wide lines at any screen resolution. We now have four different algorithms for line-rendering in ToonToy that we can mix together. All in all, our solution provides more than 500 adjustable parameters in order to get the desired look under different conditions." If you're curious, an overview of the pipeline and structure of Revolution's post processing shader can be found in this technical paper.
But it isn't just technology that has moved on since the original Beneath a Steel Sky. The adventure genre itself is unrecognisable since the '90s, with old-school point-and-clicks having long been superseded by the likes of Life is Strange, or first-person adventures like Dear Esther and Gone Home, or visual novels like Doki Doki Literature Club. Satisfying the original fans while appealing to new audiences inspired by these successors was a key challenge.
"Right from the start, we asked our fans what they would want to see in a sequel and used their responses as design pillars," Cecil says. "These included the relationship between Foster and Joey (Joey had to be in it!); a return to Union City but viewed from a different perspective; and the juxtaposition of a dramatic story that raised questions about modern society with humorous exchanges."
Perhaps boldly, Cecil says Beyond a Steel Sky is "unashamedly an adventure game" in that it utilises many of the gameplay elements that a fan would expect from a 3D adventure. But that doesn't mean he hasn't found some exciting ways to innovate. "These classic mechanics sit above a concept that we call Virtual Theatre – a system in which intelligent characters inhabit the game world. They pursue their own motivations and respond and react to world events. These motivations can be subverted by the player; either directly through their actions, or indirectly through hacking the interconnected AI systems to create unexpected outcomes for those characters."
When designing new systems, the ability to rapidly prototype, test, and then iterate can save months of development time. And so, as with many games in this series, Revolution found Unreal's tools invaluable in doing exactly this. "The use of UE4 has left us super agile in our development approach," Cecil says. "Through the extensive use of Blueprints [a visual scripting tool that enables even non-programmers to code game functionality], we prototyped the technologies and gameplay, which allowed us to build and rapidly iterate on the vision."
Beyond a Steel Sky faces one final hurdle in bridging the past with the world as it is today. Although it was set in a dystopian future, Beneath a Steel Sky was very much a game of its time: when it was released in 1994, "British society was going through turmoil as financial deregulation made some hugely wealthy whilst impoverishing others," as Cecil puts it. "The Berlin Wall had recently fallen, appearing to deal a death blow to communism. The British Prime Minister [when the wall fell], Margaret Thatcher, famously said 'there is no such thing as society', which felt like a profoundly depressing statement. For the original game, I sought to project how this journey might end – badly."
But this was over 25 years ago. Have these themes become more or less pressing? "We have seen huge change," Cecil says. "After a sharp decline, the communist powers have come back stronger and every bit as belligerent, the number of countries with nuclear weapons has proliferated, and the capitalism embraced by the West has not propelled us to happiness in the way that we had originally expected."
It sounds like the sequel should have plenty of fodder, then. In what ways has Revolution's treatment of this subject matter changed?
"Beyond a Steel Sky describes a benign regime that seeks simply to make people happy – from an AI's perspective. I hope that it will feel very relevant in the modern day – the perceived notion of wellbeing and happiness, and how this connects to societies where AI is being used to reward or punish people at a micro-level of human activity. How much can we trust AI to comprehend genuinely human behaviors – and how dangerous might it be when we do? It feels that the time is right to explore these questions as Orwell's 1984 did for the Cold War era. I also take inspiration from Terry Gilliam's Brazil in terms of the juxtaposition of the terrifying and the ludicrous. "
Beyond a Steel Sky is coming soon to Steam and Apple Arcade. Unreal Engine 4 is now free.
In this sponsored series, we're looking at how game developers are taking advantage of Unreal Engine 4 to create a new generation of PC games. With thanks to Epic Games and Revolution Software.