If you love PC simulation games like PowerWash Simulator, or Steam games with management elements that have a similar aesthetic to Old School RuneScape, then Blacksmith Master is absolutely the game for you. We at PCGamesN have plenty of exclusive screenshots and details to share with you (including a shiny new trailer), as well as some insight from the game's developers.
This medieval management sim lets you manage the entire production chain from start to finish – sending out workers for ore, smelting the ore into ingots, designing your wares, and hiring staff, too. You'll also be customising your workspace, so think building a house in The Sims with the added challenge of designing for efficiency and profit, not just to trap your workers in a pool with no ladder.
Developed as a solo indie project from Untitled Studio's Luka Glavonjić, we had the chance to get some answers about Blacksmith Master, giving you a full picture of the game alongside the screenshots and trailers.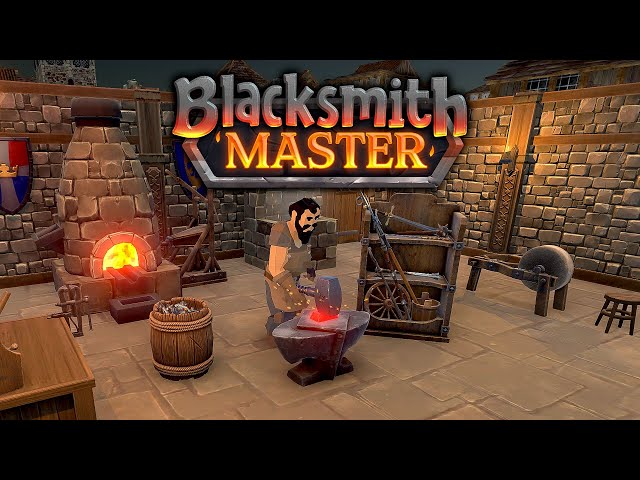 "I had many many people request that a blacksmith should be added to [my previous game] Tavern Master as DLC or a big update," Glavonjić explains. "So I just decided to make it as a separate game because it didn't feel like it would fit, especially since I wanted to experiment with some new game mechanics."
Blacksmith Master will also be getting quite a bit of post-launch support, but exactly what it includes depends on your feedback after playing the game itself. "Post-release updates would probably include more items to craft, more furniture, but it could also be something completely new like new maps, mod support," Glavonjić says, highlighting that what the players want will partially dictate any sort of release timeline.
The staff management aspect will also be incredibly important to Blacksmith Master, as you'll need to keep an eye on "staff happiness, salary, shifts, and skill progression" as some staff will quit if they don't remain fulfilled in their work.
Blacksmith Master will come to Steam Early Access and the Epic Games Store later this year, so keep your eyes peeled. You can wishlist Blacksmith Master over on Steam, or check out Tavern Master on Steam right now too, which has a "very positive" reception.
In the meantime, our lists of the best management games and city-building games are sure to fill the Blacksmith Master-shaped hole in your heart.