Borderlands 3 is coming to Steam very soon, but that's not the only news to come out of Gearbox's PAX East panel today. The studio has also revealed the next wave of DLC plans for Borderlands 3, including a full breakdown of the second add-on, and some hints about what to expect from the third expansion contained in the season pass.
Guns, Love, and Tentacles: The Marriage of Wainwright & Hammerlock launches on March 26, and it'll tell the certainly violent tale of the marriage between Sir Alistair Hammerlock and Wainwright Jacobs. The list of Borderlands 3 planets will expand with the addition of the frosty Xylourgos, where cultists are worshiping the corpse of a dead Vault Monster.
Gaige and Deathtrap return as NPCs, and the expansion will naturally bring a whole host of new gear, Legendaries, and class mods to expand your arsenal with, plus new heads, skins, and decorations that you can use to fill out your cosmetic customisation options.
We also got a brief glimpse of the third DLC pack with a bit of concept art, hinting that the new expansion is going to be all about outlaws and dinosaurs – a personal favourite combination of mine. This DLC is scheduled to launch in the summer.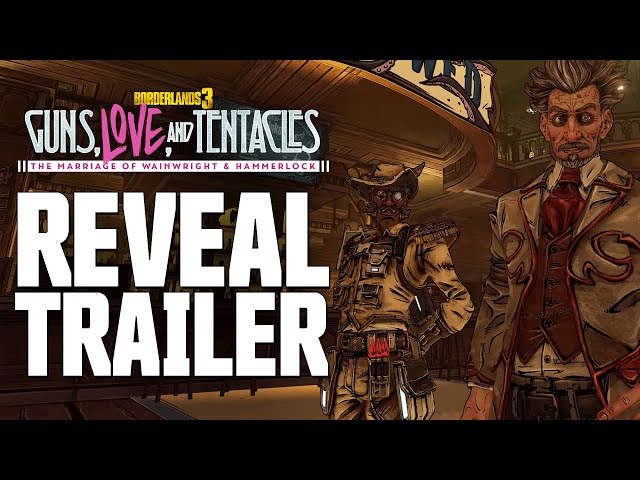 A further set of free updates will come throughout 2020, including Mayhem Mode 2.0 – a rework of the Borderlands 3 endgame which changes how the Mayhem modifiers work. A new in-game event called Revenge of the Cartels will have you hunting down gang leaders for a selection of fresh rewards. Both these updates launch in April.
In May, Takedown at the Maliwan Blacksite will follow up on the previous Takedown mission with what gearbox is calling "some of the most challenging content in the game." You'll find new bosses, gear, and cosmetics as part of the Eridian-focused mission.