Operation Monarch is coming to Warzone in Season 3, a special limited-time event that features Monsterverse Titans, Godzilla and Kong. The monsters will face off in a new game mode for Quads which includes high value loot zones according to a Raven blog post.
Warzone Pacific Season 2 introduced the production of a deadly chemical, Nebula V, which has attracted Godzilla and Kong to Caldera, although no one knows exactly what they're doing on the island, but both monsters can be enraged into a frenzy. The Warzone Operation Monarch event was teased on the Call of Duty Twitter, showing new unique weapon skins based on the Titans, with bundles available for Kong, Godzilla, and Mechagodzilla which can be found in this Call of Duty blog post.
A recent Call of Duty blog post gave more details on the event, including how Godzilla and Kong will act in Caldera and what players can expect from both Operation Monarch and the limited-time mode. Here's everything you need to know about Operation Monarch in Warzone season 3.
Warzone Operation Monarch release date
The Operation Monarch release date is May 11 to May 25, 2022 and will go live at 9am PT.
Warzone Operation Monarch trailer
In a teaser trailer, Captain Price explains in voiceover that at some point, the operatives on Caldera realised that a "storm" was approaching, which he says was "something more powerful than anything we could hope to comprehend." The clip shows King Kong snatching a plane out of the sky, smashing it into the ground. Kong thumps his chest, but over his shoulder notices an approaching wake on the ocean surface – it's none other than Godzilla, who we've been seeing hints of in the lead-up to this reveal.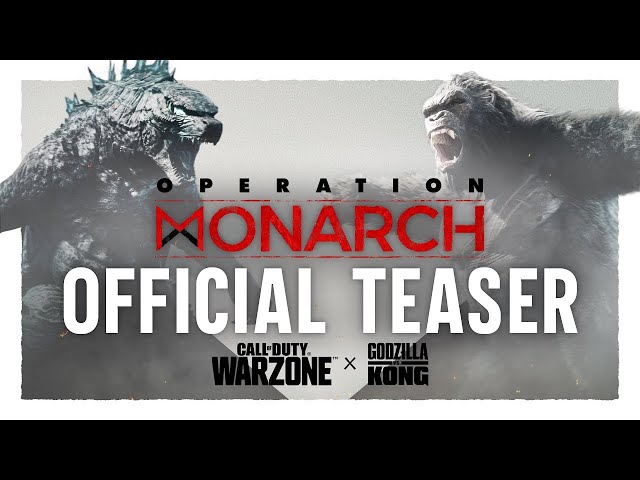 The two iconic movie monsters then prepare for battle, leaving us all to imagine how we're going to conduct a battle royale amid the chaos. It seems clear that having King Kong and Godzilla punching each other all over Caldera will have major implications for aircraft combat, and there's always the issue of getting stepped on to consider.
Warzone Operation Monarch gameplay
In the limited-time event, players can discover Monarch Intel in supply boxes, special drops, and from fallen enemies to unlock killstreaks and loadout drops. The developer has also released details on how Godzilla and Kong will behave in Caldera: Godzilla has Heat Ray Breath, Tail Swipe, and Dorsal Slice attacks, while Kong has a Quake Slam, Fin Breaker, and Aerial Axe Slash attack.
According to the blog post, Kong will "leap and jump around the island" and Godzilla will "use his Heat Breath haphazardly", though it's still unknown what provoked these monsters.
Although both Kong and Godzilla aren't too aggressive, they can enter a Titan Frenzy, where they attack randomly. Players receive a warning when a Titan Frenzy happens and the squad that deals the most damage will receive the S.C.R.E.A.M Device (Titan Sonic Communication Radar and Echolocation Array Module), that controls either Godzilla or Kong and releases a Heat Ray or ground pound attack anywhere the squad chooses on Caldera.
Warzone Operation Monarch chALLENGES AND rewards
There are eight challenges tied to the Operation Monarch event; once completed, you receive a special Ancient Rivalry Marksman Blueprint, with some secret rewards for experimenting with both Godzilla and Kong, and charms, Calling Cards, and Player Titles up for grabs.
Play Operation Monarch for 6 Hours: Reward — Epic "Ancestral Skull" Charm
Use a Kong or Godzilla Killstreak Once: Reward — Rare "Ancient Remains" Charm
Use a Kong or Godzilla Killstreak Three Times: Reward — Rare "Monarch Eyes Only" Charm
Deal 500,000 damage to Titans: Reward — Rare "Concrete Jungle" Sticker
Deal 135,000 total damage to Kong in Titan Frenzy Events: Reward — Legendary "Team Godzilla" Emblem
Deal 135,000 total damage to Godzilla in Titan Frenzy Events: Reward — Legendary "Team Kong" Emblem
Collect 3,000 Monarch Intel: Reward — Epic "Skyline Crasher" Calling Card
Place in the Top 15 twelve times in the Operation Monarch Limited-Time Mode: Reward — Epic "One Will Fall" Spray
While that's everything we know about Operation Monarch in Warzone, expect there to be more news released in the next week in the lead up to the release date. In the meantime, here are the best Warzone guns and best Warzone loadouts to help you take out these monsters when they arrive.