Back in 2018, EA announced it was bringing the C&C strategy games series back to PC, starting with Command and Conquer: Remastered. So far there have been art previews of the construction yard and Tesla tank, and a gameplay teaser to check out, but no glimpses of the Red Alert portion – until now. A screenshot of Red Alert remastered has appeared on developer Petroglyph's website.
As spotted by user Mohmahkat on Reddit, the image featured on the studio's homepage appears to show a hearty slice of Red Alert's in-game action in glorious new 4K (included below). Take a look at original gameplay (for example, here) and the improvement is immediately apparent. The red of the warehouses, vehicles, tanks, and – heck – even the little soldiers' helmets gleams with an all-new clarity, and everything is much more sharply defined.
Users in the comments excitedly note things such as the propane tanks surrounding the war factory, which they thought were just "blue orbs" until now, as well as the look of the stream's water and the tracks in the snow, which are far crisper than before. Oh, and that swirly ore in those silos. So swirly. Drool.
Take a look for yourself below:
Image from petroglyph website first "Red alert remastered" on the right from r/commandandconquer
If you're keen to compare the first C&C (Tiberian Dawn) remaster with the original, EA has helpfully included a before-and-after style slider on the game's website, which you can check out here. The studio also previously announced you'll be able to toggle between the old and new visuals in real-time during gameplay, too.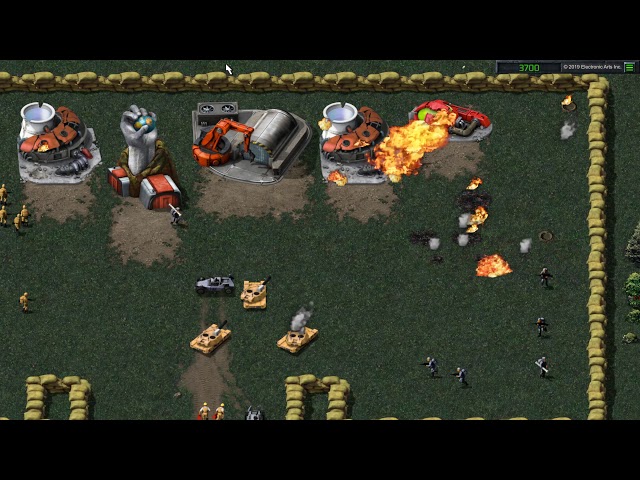 Petrogylph Games is a studio made up of many of the original Command and Conquer developers at Westwood, and is heading up the remaster project. There's no set release date for the C&C remaster just yet.