We're just a few weeks out from the world's most PC hardware-savvy tech show, Computex. You can already smell the silicon in the air and it's enough to get any tech junkie salivating. Based in the birthplace of such silicon luminaries as TSMC, Asus, MSI, and Gigabyte, Taiwan's Computex is a show dear to the heart of the PC hardware industry.
Computex kicks off in Taipei on May 27 with an inaugural keynote speech from the one and only Dr. Lisa Su, AMD's famed CEO. But there's plenty more to the Taipei show than just "will AMD drop Ryzen 3000?" Given its just announced a Q3 release for the new 7nm processors I think we can at least rule that out, but the good doctor will at least reference them anyways…
There will, of course, be things missing from the show. AMD is likely to hold off on going too big on anything Navi GPU related with the Next Horizon Gaming event happening at E3 barely a week later.
And with that being the case Nvidia isn't going to say anything about a potential Turing refresh until it knows what it's up against after the Radeon release. In fact, we'll be at Nvidia's Taiwan HQ during Computex, and still don't have any idea what it might have in store for us…
Gaming gear: The best gaming PC builds for your DIY project
But the full week from May 26 to the June 1 will be packed with technological marvels to delight the senses as companies get a jump on the start of the show proper to show off their wares… and prompt us to empty our bank accounts.
These are just the seven things we're most excited to see at Computex 2019.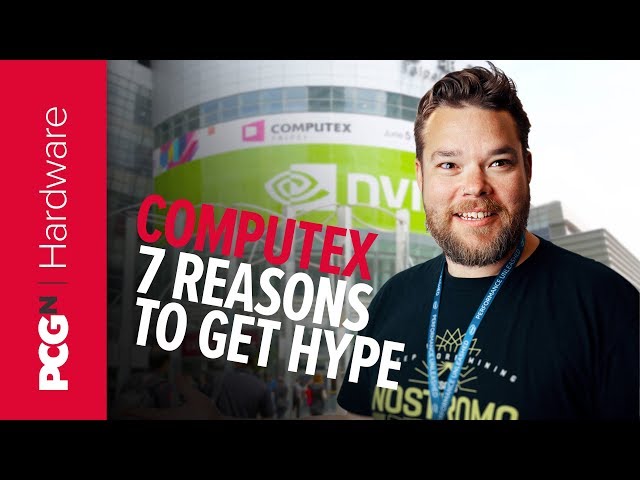 1. AMD Ryzen 3000
AMD's CEO, Dr Lisa Su, will be delivering Computex's inaugural keynote speech. That's a rather big deal because not only has AMD never hosted the event, Computex's organiser, TAITRA, has never put on an introductory keynote speech before, either. Dr. Su has already promised to share "new details of upcoming products" at the event, which we're taking to mean nothing less than its entire Ryzen 3000 CPU lineup and a vast array of X570 motherboards.
Yes, if you haven't already done so, it's most definitely time to jump on the Ryzen 3000 hype train. These processors will be the first consumer chips built on the 7nm process node and will come bearing the Zen 2 architecture in all its glory.
AMD's "revolutionary chiplet design" could be just what chip maker needs to climb back to the top of the gaming CPU hall of game, bringing high-performance, high-core-count computing into the mainstream.
AMD's keynote takes place on May 27 at 10am Taipei Standard Time. That's 3am BST or 7pm PDT. And you'll be able to watch the whole thing with AMD or on PCGamesN… and also join in the 'Where's Jacob' fun of trying to spot me in the audience.
2. AMD X570 motherboards
If we've got new CPUs we best darned get some new motherboards to plug them into. Thankfully AMD and its loyal mobo partners will be showing off a slew of X570 motherboards in Computex. Some of which have already been leaked into the public eye, including Biostar, with multiple infractions, and Asus boards.
The X570 boards will differ from the existing 400-series motherboards in that they're going to be the first to actually offer us PCIe 4.0 support for both our CPUs and GPUs. Currently there aren't any PCIe 4.0 compatible options for either, but the Ryzen 3000 processors will take care of one side of that and the upcoming AMD Navi graphics cards ought to take care of the other.
And, luckily for some, AMD will retain backwards compatibility with Ryzen 3000 across most first and second generation Ryzen AM4 motherboards. There might even be some potential retro-fitting of PCIe 4.0 with some of the top 400-series boards too. Sweet.
3. Thin and light intel laptops
While Intel may well be playing second fiddle to AMD this Computex, it's not going to let the event go by without mention. Gregory Bryant, senior VP of client computing, will be hosting its own Computex keynote on May 28, the day after AMD takes to the stage.
Just one of the suspected topics of conversation is expected to be Project Athena, Intel's attempt at drastically reducing the footprint of laptop components to create even more tiny PCs. The new program is aimed at creating a new class of advanced laptop which will use the efficient, miniscule Lakefield motherboards to power its devices. At only 12mm2, the Foveros board and chip packaging will occupy little more than the footprint of a mobile phone.
We're also confident that Intel Ice Lake – yes actual 10nm processors – will be announced within laptops during the event. Just don't hold your breath for 10nm desktop processors – those aren't expected to launch anytime this year… or possibly even next.
But neither of Project Athena or low-power Ice Lake chips are likely to be of much use to us gamers. Instead, we'll be on the lookout for further thin and light gaming machines alongside Nvidia's mobile 16-series and Intel 9th Gen processors following both the company's respective launches just last month.
4. High-end intel desktop processors
Intel may be a quarter or two away from new mainstream chips, but its high-end desktop platform is expected to receive yet another 14nm refresh at Computex. Following on from the server-grade 56-core Cascade Lake parts launched earlier this year, Cascade Lake X processors will be built upon the same 14nm process and LGA 2066 socket as its predecessor, Skylake X.
That means they'll likely fall a little closer to the Basin Falls Refresh chips from yesteryear, albeit rocking higher clock speeds thanks to the extra-mature 14nm process.
And with 3rd Gen Threadripper vanishing from AMD's CPU roadmap, Cascade Lake X might not have the red team breathing down its neck… though there is the not-so-small matter of 16-core, 32-thread Ryzen 3000 chips.
5. Next-gen corsair LEDs
Corsair showed of its unique Capellix LEDs back at CES 2019, and they were surprisingly one of the most intriguing products on display at the show.
We've got good reason to be gushing over LEDs, I promise. In the same space that you could fit four regular ol' LEDs you can fit 100 of Corsair's miniscule Capellix LEDs. One. Hundred. The tech is 60% brighter, too… and 60% more efficient… and 40% less power hungry.
Capellix LEDs aren't just going to make everything super, amazingly pretty, either. Corsair's touting this new tech specifically for use with RAM due to its power-saving nature. Since Capellix is able to operate at such low power, this allows the company to crank tighter timings out of its aesthetically-pleasing memory and increase performance.
Of course you could just forgo RGB altogether… if you really wanted, but real gamers want RGB obviously. Either way, we're hoping Corsair will show us more of Cappelix over at Computex.
6. PCIe 4.0 devices
With AMD on the verge of its X570 motherboard release, you'd hope at least someone would be ready to pounce of the burgeoning PCIe 4.0 device market. As of today, very few devices are set to put PCIe 4.0s bandwidth to good use. Graphics cards barely make use of x16 PCIe 3.0's 16GB/s bandwidth as it is, and PCIe 4.0 will double that theoretical bandwidth up to a whopping 32GB/s.
But having extra bandwidth to play with, across fewer lanes, will make for some seriously storage-friendly motherboards. And the potential availability of high-bandwidth PCIe 4.0 NVMe devices will open the door for M.2 SSDs to become ever more mainstream.
Not to mention a PCIe 4.0 x4 capable NVMe drive could break the 4,000MB/s read/write barrier.
7. memory at 5,000MHz
With AMD Ryzen 3000 processors rumoured to be harbouring a memory controller capable of maximum memory speeds up to 5GHz, there's more reason than ever for memory manufacturers to finally start shipping 5,000MHz memory kits at volume.
Back when Ryzen first launched in February 2017 it suffered from dodgy memory support. Subsequent generations and new microcode has laid to rest this issue to some extent, but there's still some ways to go to trump Intel. That's why, if the rumours are indeed true, hitting the 5GHz memory mark as standard with Ryzen 3000 would be a convincing win for team red.
Though the price tag of 5,000MHz memory might be a bit hard to swallow at first, and there's sure to be the added expense of premium motherboards capable of supporting such speedy memory.
But since manufacturers have already been closing in on 5GHz, via overclocking, without much good reason to do so, Computex seems like the right time for lightning fast kits to make an official appearance.
Expect the likes of Corsair, G.Skill, Ballistix, HyperX, and every other memory brand of note to be on the case with high-spec kits out in Taipei.