Survival RTS Conan Unconquered has a new update out, and it adds a new playable character. Belit, a Shemite pirate, is a ranged character who is worshipped as a goddess by her crew of corsairs.
Belit first appeared in Robert E. Howard's novelette Queen of the Black Coast, which was first published in Weird Tales magazine in 1934. That story tells of how Belit taught Conan the ways of the sea, and that he followed her lead as a member of her crew. The two became lovers, but – spoilers here – Belit dies toward the end of the story, and Conan embarks on his own career as a pirate.
In Conan Unconquered, Belit has a high movement speed, equal to that of Valeria. Publisher Funcom says her damage is between Valeria's and Conan's, with the same range as the archer unit.
Belit's deadly ability is 'Rain of Arrows,' which fires off a volley of missiles to strike a target location with an area of effect. If Belit is standing near a brazier when she uses the ability, it becomes 'Rain of Flaming Arrows,' which naturally adds fire and its associated damage to the ability. She can't move while the effect is active, but she becomes immune to damage for the duration.
Belit is available immediately to all players, alongside Conan, Valeria, and the spellcaster Kalanthes.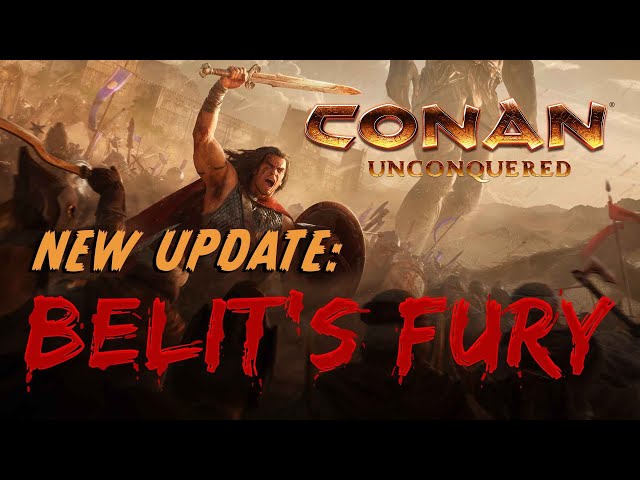 The update also introduces some new game modes, map improvements, and some increased graphical polish, as well as five new scenario locations and associated challenges. In Unconquered Mode, players can select Large Maps, which increases the map size by about 20%. Funcom warns that using this option can impact random generation times, and hurt performance on minimum-spec PCs.
You can read the full patch notes here. There are a host of fixes, tweaks, and other improvements included in the Belit's Fury update, which means now might be a good time to jump back into Conan Unconquered.