Steam survival game hit Core Keeper now comes with improved visuals, a bunch of new features like playable instruments and better customisation, and a few neat nods to Zelda, especially the Ocarina of Time, courtesy of a fresh Core Keeper update which also adds some sweet seasonal content just in time for Valentine's Day.
Core Keeper's 'Quality of Love' update starts by vastly improving the sandbox game with enhanced shadows and lighting. Underground areas have been given special attention, with more realistic lighting sources, better shadow diffusion, and new, light-emissive surfaces.
The soft neons and glowing oranges that define the game's visuals now bounce around the screen more believably, casting deeper, more varied shadows. Developer Pugstorm has also created a new rendering pipeline to make Core Keeper look better than ever. You can see the new-look version of the game in the video below.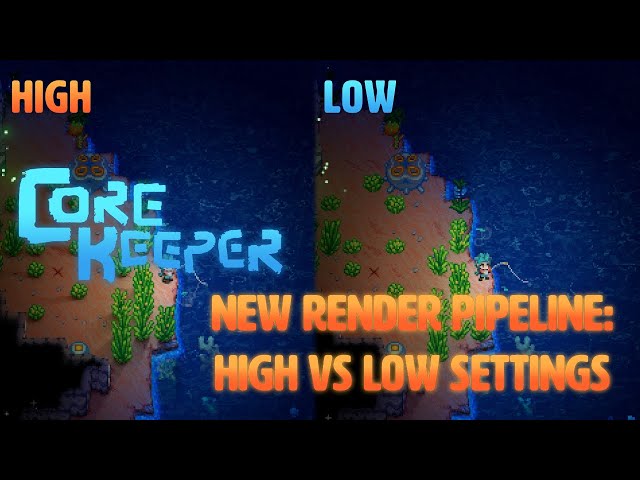 There are also some new permanent features to bolster Core Keeper's character customisation, and make your precious downtime in the dungeon crawler feel more peaceful and fulfilling than ever. As well as new hairstyles and clothing colours, and the added option to use multiple equipment presets, you can now access the 'Magic Mirror' to customise your Core Keeper character whenever you like.
On top of that, Core Keeper is going a bit Zelda thanks to the introduction of playable instruments including a cello, flute, harp, and the most-famous Link stalwart, an ocarina. You can craft your own musical instruments and play together with friends to forge your own, subterranean orchestra. Collect sheet music from around the game and combine it with your homemade music makers to keep things sweet and melodic between quests.
But this is the Quality of Love update, so it wouldn't be complete without some seasonal Valentine's Day content. From February 8 to February 28, you can collect love letters around Core Keeper and use a new, themed crafting table to make Valentines-esque wearables.
A new weapon, the Cupid Bow, allows you to neutralise enemies with the overwhelming power of love – ping them with an arrow, and they'll stop attacking you. There are also Valentine's-based decoratives like candles and a heart-shaped rug, and even a unique ring that you can gift to your favourite spelunking buddy. The Core Keeper Quality of Love update launches February 8.
Whether you're returning to Core Keeper or digging in for the first time, make sure you know how to get the Core Keeper drill. We can also tell you everything there is to know about Core Keeper scarlet ore and Core Keeper tin ore, to keep your crafting and creating running nice and smooth.