Creed: Rise to Glory is a VR boxing game based on the (excellent) 2015 movie Creed. A spin-off from Sylvester Stallone's famous Rocky series, the movie follows Adonis Creed, son of Rocky's original rival turned friend Apollo Creed, as he climbs the ranks of world boxing and earns the right to his father's legendary name.
The videogame "loosely follows the beats of the movie," project lead and senior software engineer Eugene Elkin explains, and at first glance it appears to be the perfect subject matter for VR. Last week, we profiled The Persistence, a roguelike horror shooter that aims to solve one of the perennial challenges of virtual reality: motion sickness in first-person. With almost no movement beyond the limits of a standing or sitting position and no changes in elevation, a boxing game lacks many of the usual stimuli that contribute to VR motion sickness.
Moreover, Rise to Glory is made by Survios – by now an old hand in VR development (back in April, we took a look at The Walking Dead Onslaught, the studio's current project). Still, a boxing simulator – or rather, a "cinematic boxing experience", as Elkin prefers to put it – presents a unique challenge.
"The heart of Creed: Rise To Glory is the visceral feeling of combat," Elkin says. "In order to capture the experience of being in those iconic boxing matches, we developed techniques for punching – and getting punched – that felt truly satisfying. The system we created for this, called Phantom Melee, utilises strategic desynchronisation of player avatars to mimic the real-life effects of throwing and taking punches in the ring."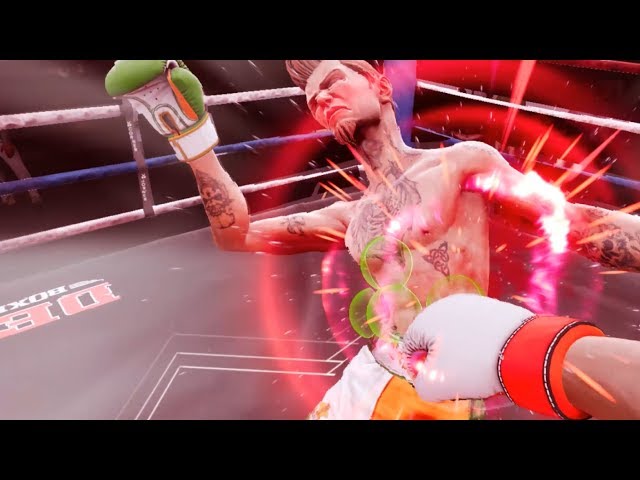 Elkin is referring to the mechanic whereby a knockout will send your perspective flying backwards out of your in-game avatar, and you'll need to 'run' forwards to reinhabit your body in order to get back up and keep fighting. "The goal was to make it feel as if you were right there, toe-to-toe with some of the most ruthless fighters in the world."
It's all part of that "cinematic boxing experience", a distinction that Elkin is keen to make with more authentic, but perhaps less charismatic, boxing simulators. "It's about over-the-top action, scored to classic franchise music, extremely satisfying combat, slow-mo, dash punching – this is not real-life boxing. This is cinematic boxing."
In this endeavour, Survios was supported by Metro-Goldwyn-Mayer (MGM), the Hollywood production company that owns the rights to Rocky. "As far as IP holders go, MGM was a great partner and a pleasure to work with," Elkin says. "Our team had the creative freedom to develop a story and game features that were best suited for the VR experience we envisioned. Movie-based video games have a long history of poor critical reception. Keeping that in mind, the team wanted to capture the most exciting parts of the franchise and let the player live out the fantasy of stepping into the ring with the legends."
Survios even got to work with Adonis Creed himself – Michael B Jordan. "We got a chance to work with Michael B Jordan during a voice recording session for the game," Elkin says. "It was a pretty surreal experience. The man is a true professional. Not only did he put all his effort into delivering the lines we wrote, but he also didn't stop until he considered the delivery of each to be perfect."
A number of free updates have further delivered on the promise of letting players go toe-to-toe with the icons of the Rocky world. Clubber Lang, Ivan Drago, Apollo Creed, and Rocky Balboa were all added in the Rocky Legends update last year, as well as Danny 'Stuntman' Wheeler and Viktor Drago from Creed II.
These clever gameplay ideas, official support, and clear cinematic vision still require the best technology to bring them to life. And as the other VR games that we've profiled in this series can attest, Unreal Engine has become a leading solution for virtual reality development. You might think that making a VR boxing game is a relatively niche application for an engine that aspires to be a universal game creation suite, but it's precisely Unreal's flexibility – as well as Survios' lengthy experience with it – that means the studio is unlikely to ever look elsewhere.
"Survios is primarily an Unreal Engine studio and has been since the very beginning," Elkin says. "Our first experience with the engine was with version 4.7, which we used extensively in the development of Bullet Time Apex, our very first project that eventually evolved into our initial studio title: Raw Data. Ultimately, the graphical capabilities, richness of features, and availability of the source code were the main deciding factors in selecting UE4 as our engine of choice. Almost six years later, we have developed a broader, more significant toolset that helps us create games quicker, efficiently, and of a higher quality than what was previously possible."
Related: Check out the best VR games on PC
That's a lot of investment to throw away. All that said, most of the developers we speak with for this series feel the need to make some modifications to the engine to adapt it to their particular challenges, and Survios is no different. "We have made many engine modifications over the years," Elkin says, of Survios' long history with Unreal. "Most times, the changes are very specific engine optimisations for our games. For instance, one of the engine changes made for Creed was a new lighting model for skin shaders that cheaply approximated sub surface scattering in the forward shading pipeline."
The particular considerations of VR need some attention, too. Notably, "VR games require a high degree of CPU and GPU optimisations" to ensure high and consistent frame rates for a smooth experience. "Thankfully, Epic has been committed to providing developers with continuous updates and features to streamline VR development," Elkin says. "For example, they have put a lot of effort into creating a forward rendering path specifically for virtual reality.
"Unreal is essentially a giant sandbox. You have the full freedom to create any type of tech necessary to achieve your vision of a game. It may sound cheesy, but truly: if you can think it, you can build it."
Creed: Rise to Glory is available on Steam now. Unreal Engine 4 is now free. Unreal Engine 5 is due to release next year.
In this sponsored series, we're looking at how game developers are taking advantage of Unreal Engine 4 to create a new generation of PC games. With thanks to Epic Games and Survios.