Amazon Games has just announced a brand-new free-to-play shooter for PC in the works, which pits teams of "hunters" – super skilled aliens, robots, and humans – against tricky foes and "hostile creatures", all with the goal of scoring objectives and scooping up a prized resource – Essence. It's called Crucible, and arrives in just a few weeks.
According to the studio, Crucible will feature three core game modes at launch, all of which are team-based and take place on a treacherous planet " at the edge of known space". The first, Heart of the Hives, is a 4v4 mode with both PvE and PvP elements that gets hunters tackling "giant boss Hives" that spawn all over the rogue planet. The hives each carry a valuable centre a "heart" – and the first team to grab three of these takes the victory. You'll need to take on both the Hives and the opposing team to win.
Alpha Hunters, on the other hand, is a PvP mode made up of eight pairs of hunters with a simple but challenging goal – be the last team of two standing at the end.
Last up, the Harvester Command mode flips this around, putting two teams of eight players against eachother to earn points by capturing and hanging onto "Essence Harvesters" – that is, "vying for control of the Essence that drew them all to the planet". The first team to 100 points wins the match.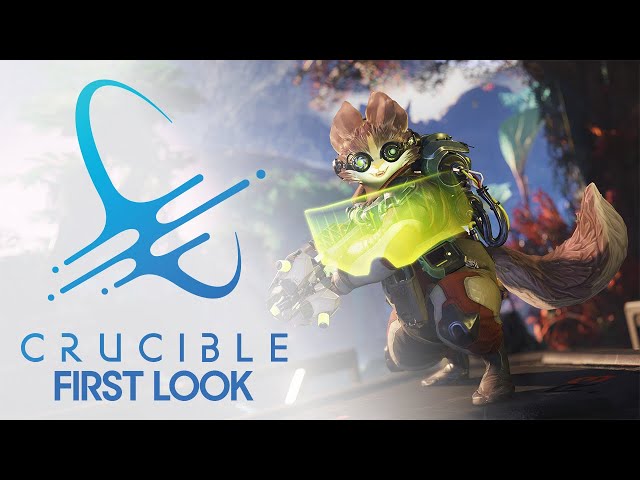 The hunter roster is made up of ten distinct characters, "each with their own unique weapons and abilities", and with one for each playstyle, the studio says. For example, Bugg is " a robot botanist whose primary concern is protecting his plants" and Summer is a "champion fighter and former welder whose flame throwers keep things hot on the battlefield".
Throughout the game you'll hunt down that all-powerful Essence, which lets you level up your hunters, building up their power and enhancing their abilities. "Crucible's fast-paced combat requires players to constantly re-evaluate and adjust their strategies, adapting to their opponents' moves and the ever-changing planet itself," the studio explains.
WHAT IS THE CRUCIBLE RELEASE DATE?
Amazon Games says the Crucible release date is May 20, 2020 – so you have only a few short weeks to wait before you can get stuck in. The game is developed by Relentless Studios, an Amazon Games dev team based in Seattle.
If you're keen to find out more, you can head to the Crucible website here. We also have some lists of the best free PC games and best multiplayer games if you're keen to see what's already out there to try ahead of its arrival.