Paradox Interactive is keeping fans up to date on the development of Crusader Kings III by periodically publishing interviews with the team creating the next big medieval dynasty simulator. The latest, posted Friday, touches on a host of key features and changes to the formula, including a brand new 3D portrait and DNA system, new mechanics for ruler's councils, and of course, cunning plans.
The December update video breezes through several topics at a pretty quick clip, and you can watch it in full below. Some of the biggest changes, though, include an all-new character portrait system that renders everyone in the game in 3D. These new portraits dynamically age and reflect conditions and afflictions the character has, and your characters' appearances will be in large part determined by their parents' DNA.
"We can do seamless aging, so all the way from a small child, you can see your character grow gradually into adulthood, and then – if they make it that far – all the way into an old and toothless 100-year-old," explains Nils Wadensten, Crusader Kings III's lead character artist.
Here's the full video: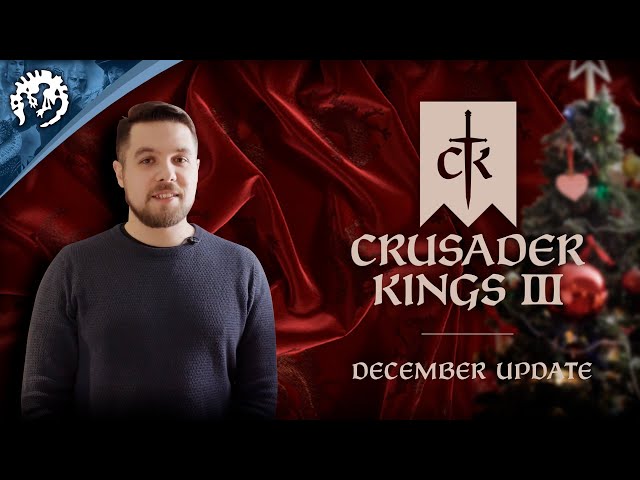 Long-time Crusader Kings die-hards will be interested in updates to how your council and vassals work. Councillors – including your spouse – will have more direct influence over your ability to perform certain tasks, as content designer Ewan Cowhig Croft details.
"We've got quite a few new tasks, depending on the council position," he says. "Marshals can increase control, which is basically sending them down to a county to beat some heads until people realize that you're the lord."
Spymasters will have a new ability in Crusader Kings III, which is finding secrets. As the developers explain, with the new secret system, 'secrets' are generated and attached to a character whenever that character does something they shouldn't, and it'll be waiting there to be discovered by someone sneaky – like your spymaster. Once the secret has been discovered, it can be used as leverage, either by exposing it and humiliating the character or by using it as blackmail. That option gives you what Crusader Kings III calls a 'hook' on the target character, which you can then use to force that character to do your bidding.
There's plenty more to learn about Crusader Kings III in the video, so be sure to watch the whole thing. You can also stick around to learn more about how Crusader Kings III cadet houses work, or about the wandering characters who will periodically show up in your court.
Crusader Kings III is due out sometime in 2020.