The perfect Starfield gaming PC has potentially arrived, as a modder has created an out-of-this-world rig that features a galaxy diorama within. Not only does the custom PC features an adorable animatronic astronaut and twinkling stars, but it boasts a water-cooled Nvidia RTX 3080 Ti cleverly concealed within a model spaceship.
Naturally, you'll have to meet Starfield system requirements to run the interstellar RPG when it lands. However, we'd argue that building the best gaming PC is just as much about aesthetics as it is performance, and we're always on the lookout for unique builds that pay homage to our favourite adventures. While we'll need to wait a bit longer to explore Bethesda's vast galaxy, the perfect PC for the job has already landed.
The latest episode of Nvidia's GeForce Garage showcases the Galaxy Box – a space-themed rig by Josiah Fast of Maximum Bubble Mods with stunning innards. Rather than using RGB lighting, the interstellar scene uses 400 fiberoptic wires to create a star-filled backdrop, which simulates a sense of deep space depth.

As hinted at above, the rig has a little Barbie doll pilot living within, perched upon their own spacecraft that has an RTX 3080 Ti for an engine. Typically, you'd expect to see PC fans whirling first when you peer into a case, but the figurine's legs gleefully dangling off the edge of the ship will catch your eye before anything else.
This build is designed to tell you a sci-fi story rather than flaunt high-spec parts, as every component is stowed away somewhere within the scene. Even the water-cooling reservoir looks like a scrappy space diner, and we can only hope Starfield has the same kind of down-to-earth establishments floating around.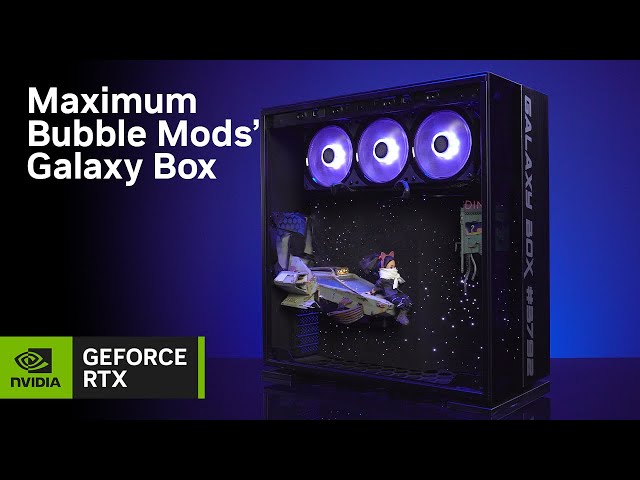 It's worth noting that Josiah Fast says this rig is created especially for their wife who has a love for retro sci-fi. Of course, if you like looking at hardware gubbins as much as beautiful set pieces, you'll find an EVGA Z690 Classified motherboard, an Intel Core i9-12900K, 32GB of DDR5 G.Skill RAM, and a WD Black SN750 SSD around the back. We reckon that'll be more than enough to run Starfield, but it'll also make short work of the best new PC games.
If you've got a thing for unique custom PC builds, we'd highly recommend checking out what Fast has to say in the latest GeForce Garage episode and in an interview with our friends over at CustomPC. We're also huge fans of this RTX 4090 sleeper PC presented on the YouTube channel, as it looks like an eMachines computer from the 1990s.
Eagerly waiting for the Starfield release date? We've got the low down on everything you need to know about the upcoming sci-fi RPG.