A huge visual upgrade is on the way for Cyberpunk 2077, but not from CDPR. The creator of the most-downloaded Witcher 3 mod announces that they're currently in development on their next project, Cyberpunk 2077 HD Reworked. The comprehensive project for CD Projekt Red's open-world RPG game is set to become one of the best Cyberpunk 2077 mods with texture overhauls across the whole game, with some work already complete and viewable in an announcement trailer.
Modder 'Halk Hogan' has already made quite the name for themselves among fans of CDPR's games. The Witcher 3 HD Reworked sits comfortably atop the all-time downloads list for the fantasy game, having racked up a staggering 5.3 million downloads since its release in 2015, over double that of the next highest offering. It became so popular, in fact, that after discussions with CDPR it was incorporated into The Witcher 3's official Enhanced Edition.
Halk Hogan is hard at work with a similar overhaul for the recently released next-gen version of the game, appropriately titled The Witcher 3 HDRP Next-Gen Edition. That hasn't stopped them from turning their attention to the newest CD Projekt Red series, however, as they share a two-and-a-half-minute teaser trailer showcasing their current work so far on the Cyberpunk 2077 HD Reworked project, which you can watch below.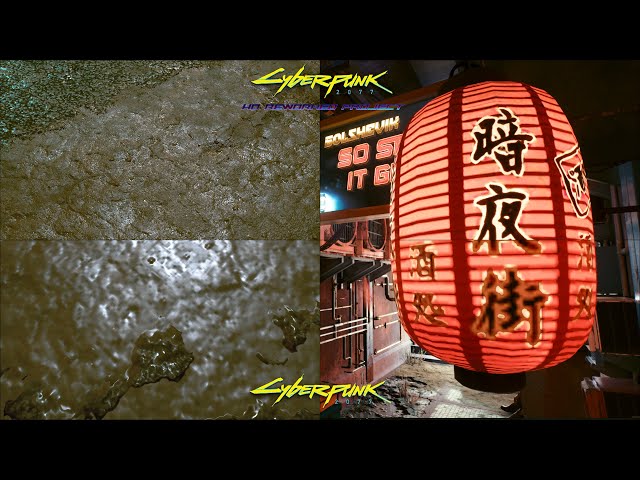 "This game definitely deserves love," Halk Hogan explains, "I've been working on this project for a short time, but as you can see some work is already completed." They say the initial version 1.0 release will focus on reworking "various low-resolution textures to make them definitely more eye candy [while] preserving [the] original art style."
The results certainly speak for themselves – seeing the difference in quality is immediately eye-opening, and Halk Hogan reassures players that "everything is optimised as much as possible, so you should not lose too much performance and at the same time the game will be more beautiful." They say to expect a release date "soon," and we'll definitely be keeping close watch – if you're planning to play Cyberpunk 2077 this year, this mod seems like the easiest pickup of all.
While you're at it, you'll want to check out more of the best Cyberpunk 2077 mods to make sure you're getting the best experience possible. We've also got a guide to Cyberpunk 2077 lore if you want to dig deeper into the world of Night City, and even more of the best cyberpunk games on PC to satisfy your dystopian, neon-stained cravings.