The twin-stick, 'bullet hell' shooter is one of the classic genres of gaming. Whether you first played one on an arcade machine, a console, or a PC, there's something about the chaos of a screen filled with bullets and overcoming fiendishly difficult bosses that's inherently fun and iconically videogamey. But when you're making a game in a genre that's as crowded and long-lived as the twin-stick shooter, how do you improve upon what's come before? And how do you stand out without violating the conventions of the genre?
That's the problem facing Keelworks, the studio behind Cygni: All Guns Blazing, an upcoming twin-stick shooter that aims to marry the genre's nostalgic past with what it hopes is its future.
"Some of the classic twin-stick shooters have incredible art, gameplay, and entertainment value," the studio's three co-founders, Meher Kalenderian, Nareg Kalendarian, and Helen Saouma, tell us. "For lack of a better term, we are simply standing on the shoulders of those giants."
Logically though, to stand on the shoulders of giants, you must first climb their backs (unless you have some form of crane hoist), and the classics of twin-stick shooters have passed down some inviolable rules. On the face of it, this genre is a simple one, and "simplicity is a big challenge," the team says. "How do you keep the mechanics simple and differentiate your game at the same time?"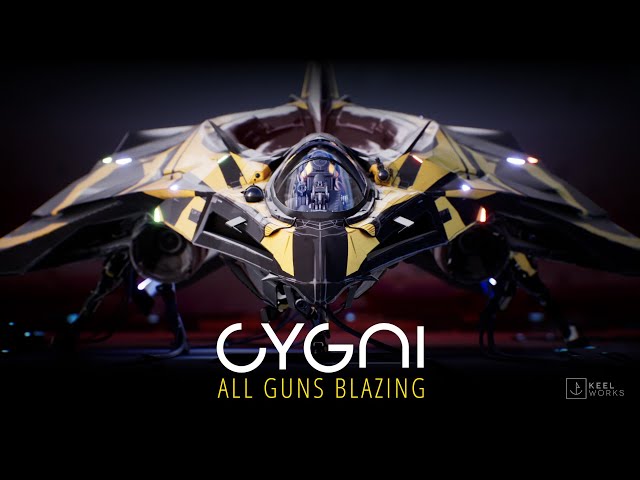 One classic of the genre, Ikaruga, achieved this by having two types of damage, challenging players to hit enemies with the correct type. In Cygni, you'll switch your ship's power on the fly between shields for defence, or weapons systems when it's time to deal some damage. "We are constantly refining the shields/weapon power-switching to be as seamless as possible," the devs say. "It is the biggest challenge so far."
Making sure one of the most iconic aspects of the twin-stick shooter felt just perfect was emblematic of the intent and polish Keelworks aims to add to every area of the game. "Simple, elegant design is deceivingly complex. In Cygni we also have a twin-stick hybrid approach which helps the player guide and aim the direction of the weapons and lock-ons. This is an added element which must work seamlessly with the existing gameplay, given that twin-stick shooters are fast-paced action games, and the player needs to be able to handle all the scenarios without fighting the controls."
Much like the team at Keelworks didn't want players to be wrestling with the controls of the game, they also didn't want to have to wrestle with the tools of their engine when building Cygni, and so their choice of technology was important. "After going back and forth between engines, we found that Unreal Engine 4 was the more artist-friendly."
The team's background is in animation, and that had a huge impact on how they made the game. They started slowly in crafting its look, with very simple shapes and small, iterative steps forward. "After we were happy that we had nailed down the basics, the real challenge began. This is where Unreal's ability to handle whatever you throw at it came in handy – we weren't pulling any punches when it came to the amount of effects and particles we wanted in the game." This is clearly evident from the game's announcement trailer, which is a New Year's Eve fireworks display's worth of explosions and lights crammed into just over a minute of footage. "Having a powerful materials editor made it faster for us to spend more time art-directing the project and less time fighting with the tools."
Related: Check out the best indie games on PC
This was never more true than in the animation department. The team's background in traditional animation led them to use "unconventional techniques" – by gaming standards at least – when creating Cygni's futuristic look and cinematics. "The end result is a combination of disciplines and techniques. Using offline rendering methods and incorporating them, to an extent, into a real-time engine is one such method."
The team found that Unreal had many similar tools to software they were familiar with from their work in the animation and VFX industries, which made it intuitive to use. "Its shading and lighting tools were very familiar," they say, but there's also praise for its development-focused tools. The visual scripting system, Blueprints, has proved "a time-saver," while "sequencer's seamless integration with gameplay has proved instrumental in Cygni's cinematic approach." Sequencer makes creating in-game cinematics easier thanks to its intuitive workflow and real-time playback.
Cygni may be standing on the shoulders of its forebears, but the dedicated team at Keelworks will hope that through their unique approach to development, it will also stand out as a modern classic.
Cygni: All Guns Blazing doesn't yet have a release date, but you can wishlist it on Steam here. Unreal Engine 4 is available for free. Unreal Engine 5 is due to arrive next year.
In this sponsored series, we're looking at how game developers are taking advantage of Unreal Engine 4 to create a new generation of PC games. With thanks to Epic Games and Keelworks.