In this day and age the forces of War, Fury, Death, and Strife are leaving plenty of evidence of their dastardly work. The alternate Four Horsemen of the Apocalypse (with Fury and Strife replacing the Bible's Famine and Pestilence) are also the stars of the Darksiders series of hack-and-slash RPGs, but their latest tale is a top-down spin-off named Genesis.
Set before the events of the other games, it's also the first playable appearance of Strife, who teams up with his brother War, the protagonist of the original Darksiders. You'll switch between the two or team up with a friend to stop Lucifer destroying life as we know it. You know, Lucifer. The devil. The literal incarnation of evil. Genesis' premise is as epic as it should be in a Darksiders game, but its story and gameplay strikes out in a bold new direction. Technologically, however, Genesis follows Darksiders III in using Unreal Engine 4.
We spoke with Ryan Stefanelli, game director and president of developer Airship Syndicate, and technical director Christopher Brooks about the making of Darksiders: Genesis and their choice to build it in Unreal. And we didn't even have to sell our soul to Lucifer or anything to make it happen.
While many Airship Syndicate devs have worked on previous Darksiders games, it isn't the lead studio on the main series. Its back catalogue includes Battle Chasers: Nightwar, a classic turn-based RPG with a comic book aesthetic. Like Genesis, that was a spin-off, so the studio is well versed in creating a new product with a new look.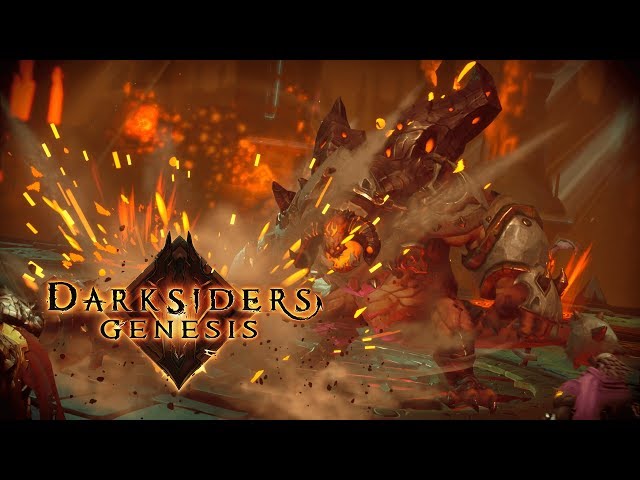 Naturally, though, the devs had plenty of contact with the current main series team at Gunfire Games: "our friends at Gunfire, who did Darksiders III, never hesitated to provide tips," Stefanelli says. "They stopped by more than once to see what we were doing and offer suggestions. In a few cases, they even gave us code outright. They were great." In a couple of cases, they even helped with solutions. "Gunfire actually helped us out with a really neat 3D navmesh solution they gave us for flying creatures."
These Darksiders games don't just share a name – they also shared an engine. Darksiders III made the switch to Unreal Engine, and even though Genesis is a new direction for the series' gameplay, Stefanelli and Brooks stuck with Unreal for the project. "Based on the success of other games of similar scope have had with Unreal, it felt like a very natural fit, especially for a multiplayer project," Brooks says. "There's also a massive resource base for group-thinking through problems that proved very valuable in the end. It's very proven technology. Having access to the full source code is a huge benefit Unreal has."
Although ultimately Unreal was the best place to make Darksiders Genesis, it came with its own challenges. "Building team expertise in the engine was a challenge we knew we'd encounter, but felt confident we could manage," Stefanelli says. "Individually many [of us] had used Unreal before, but there's a lot to be said for doing it as a team. Gaining momentum in that respect was key."
And yet Unreal's prominence in the industry enabled the team to overcome this challenge, too. "Unreal is such a common development tool now that many people on the team had used it on previous projects, so those that hadn't touched it before were quickly trained up by those who had," Stefanelli says. "Exactly," Brooks adds. "It's so universal, almost everyone has experience with it."
But what were the key gameplay challenges that Airship were looking to solve with all this experience? "Many of us were veterans of Darksiders and Darksiders II, so we understood the fundamentals needed to make a good action/adventure game. This left us with three major challenges: translating the action to an isometric camera; building two main characters versus just one, and getting the entire team working in lockstep to build it.
"All three issues boiled down to time. The camera angle helped keep visual scope in line but forced us to rethink some of the adventuring elements, which took experimenting to get right. Working on two fully fledged characters was also ambitious; War was straightforward, but Strife was all-new, which was as rewarding as it was tricky. And once the team got in the swing of things together, the game really took off."
As with many interviews we've done for the Making it in Unreal series on PCGamesN, the developers pointed to Unreal's blueprints feature as an important part of its appeal. "The blueprint scripting system Unreal provides gives designers a ton of power and flexibility to prototype different gameplay systems," Brooks says.
As a visual scripting system, blueprints enables developers to quickly program and test gameplay functionality without needing to know how to write code. So useful is it that some games have been made with blueprints comprising the majority of the code, but thanks to Unreal's flexibility, Airship Syndicate was able to replace much of its blueprints "with code later, as the design solidified," Brooks says. "Unreal provided most of what we needed for tools, though we definitely made our own tweaks and changes to the editor to match our workflow."
If you're drawn to ARPGs, then there's a good chance that Darksiders Genesis is for you. But if you prefer the third-person perspective of the main series, Airship is hoping you won't judge the book by its cover: "The game draws natural comparisons to other ARPGs because of the camera angle, but it's an action/adventure game through and through," Stefanelli says. "The emphasis is on exploration, arcade-like combat, and fast-paced moment-to-moment gameplay. So in that regard, it's definitely a Darksiders game, rather than a Diablo-like game."
Most importantly, Genesis is is every bit as firm a foundation for telling stories. "We do have plenty of fun character development," Stefanelli emphasises, "primarily through Creature Core system. Creatures have a chance to drop a unique core that can be upgraded (by collecting more) and slotted in a tree, increasing War and Strife's power and providing cool benefits. It's a fun system that adds a very arcade-like loot layer to an otherwise adventure-focused game.
"If there's one thing we're most proud of, it's making a game with not one, but two deeply developed horsemen. It was a blast to make!"
Darksiders Genesis is out now on Steam and Google Stadia. Unreal Engine 4 development is now free.
In this sponsored series, we're looking at how game developers are taking advantage of Unreal Engine 4 to create a new generation of PC games. With thanks to Epic Games and Airship Syndicate.