Friends, I have a confession to make. Against my own better judgement, I would call myself a fan of Dead or Alive. As enjoyable as Dead or Alive 6 is to play, it seems Team Ninja's focus these days is more on its hundreds of dollars of costume DLC and its latest beach volleyball game, Venus Vacation – which is perhaps why Tamaki is the next character to join the DOA6 roster.
Tamaki is one of the original characters introduced for Venus Vacation, a gacha-style take on the DOA Xtreme that asks you to pump in-game currency (or real money, naturally) into its never-ending slot machine full of ever-more-revealing bikinis. It's pretty brazen in terms of both monetization and suggestive content, and Tamaki plays the part of the game's most relentlessly thirsty horndog. (My editor is not currently around to tell me not to say "relentlessly thirsty horndog" in a story.)
She's the first Venus Vacation character to appear in Dead or Alive 6, though not the first character to debut in the Xtreme spin-offs before joining the main series. That conspicuous honour goes to Lisa Hamilton, who showed up in DOAX before showing up in Dead or Alive 4.
But Lisa was a pro wrestler, while Tamaki is literally a swimsuit model in DOA lore. Tamaki's debut teaser consists of nothing but a short walk down a beach in an improbably-revealing swimsuit. She appears in this teaser video for fourteen seconds. For three of those seconds, we see nothing but her feet. For seven of those seconds, we see nothing but her ass.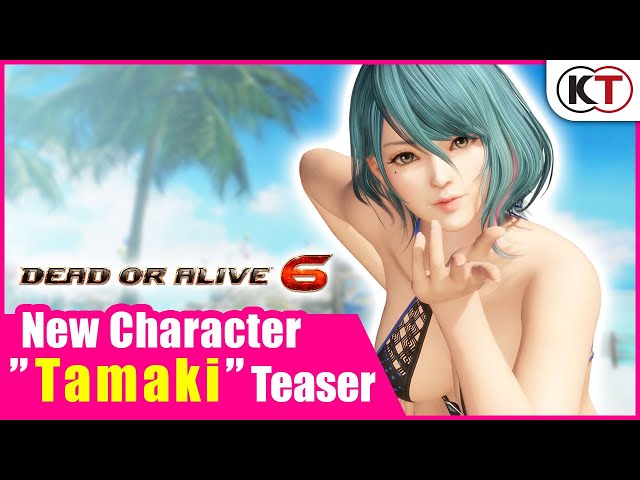 There was a point at which Dead or Alive 6 was going to be "less sexualized," but it seems that effort is lost to the distant past. Tamaki will be available as part of Season Pass 4, which costs $89.99 / £73.99 / €89.99. Individual characters are typically available for $5.99 / £4.99 / €5.99.
There are a load of great fighting games on PC, if you don't want to be pandered to – and still plenty of options if you do.