Ahead of the Death Stranding PC release date, the PC version's publisher, 505 Games, has given us a sneak peek at the action-adventure game's photo mode. Highlighting its various features, the first 'showcase' video of the mode offers an idea of the epic shots of Sam 'Porter' Bridges mid-flight, dodging explosions, and, er, sitting down that are in store. We're sure there'll be plenty of room for some silly selfies, too.
The clip, which you can check out below, provides a glance at the kind of options that'll be available in Death Stranding's photo mode when the game releases on our home platform. There are multiple different tabs for aspects such as framing, exposure, lighting, filter, and the camera itself. Through this section you'll get to set its angle and roll, and toggle the UI on or off, depending on how picturesque you want your creations to be.
Then, of course, there's the range of options for Sam. In his menu you'll get to pick things like his expression and pose (similar to Red Dead Redemption 2's photo mode), as well as his eyeline and other features – including whether he's even in the shot or not.
Take a look at the mode below. There's a particularly cool shot at around the 0:09 mark where Sam gets his SSX on, using an amazing pose: 'do the BB boogie!' Sweet.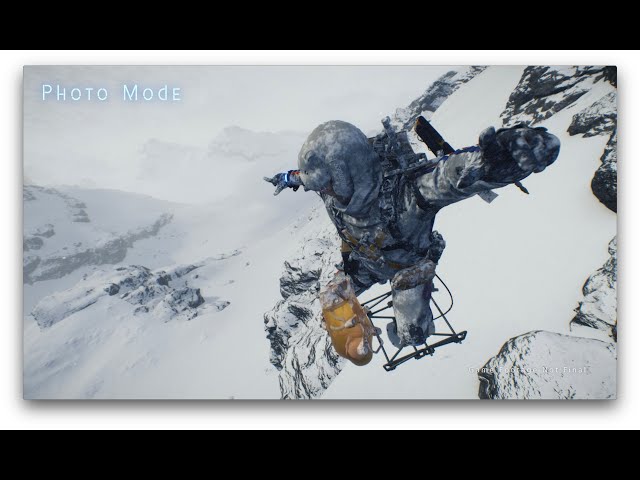 Photo mode recently arrived in-game for the PlayStation 4 version, so there are already some videos to take a look at on YouTube if you're keen to see what it'll bring in more detail.
I know you all have been waiting for this. The latest update (v.1.12) for #DeathStranding is now available, and features Photo Mode! Change angles, colors, frames, expressions and more! What will you snap?#TommorrowIsInYourHands pic.twitter.com/whPvRDVG2u

— KOJIMA PRODUCTIONS (Eng) (@KojiPro2015_EN) March 31, 2020
Death Stranding launches on Steam on June 2, and pre-orders are live. Alongside the other cool features that will arrive with the PC version, there's a Death Stranding-Half-Life: Alyx crossover included, too… for some reason.