Deep Sky Derelicts is a newly-released turn-based RPG that has you play an outcast who's part of a group of space scavengers. Primarily a dungeon crawler, you'll guide your party through a myriad of decrepit spaceships in search of loot and gear and fight whatever gets in your way.
Your ultimate goal is to find a fabled Mothership that holds a priceless secret worth risking your team's lives for. Your character dreams of one day leaving the scraps of alien spaceships behind and becoming a privileged citizen. This dark story is accompanied by a strikingly gritty and comic-book art style with thick inked outlines and a muted palette. It has the same vibe of Darkest Dungeon if it was set in the Blame! Universe.
The idea as you progress, then, is to build a squad of up to three characters that will serve you well against the dangers inside the guts of the old spaceships. Along your journey, you'll meet friendly inhabitants and traders, but there are also evils that hide within the shadows.
You must defeat these enemies in tactical turn-based battles. The fate of your fight lies in the randomly-drawn cards from your arsenal of combat actions. Back in your home ship, you can upgrade your equipment, level up your party, and recruit new members if a previous member were to not return – there will undoubtedly be losses along the way.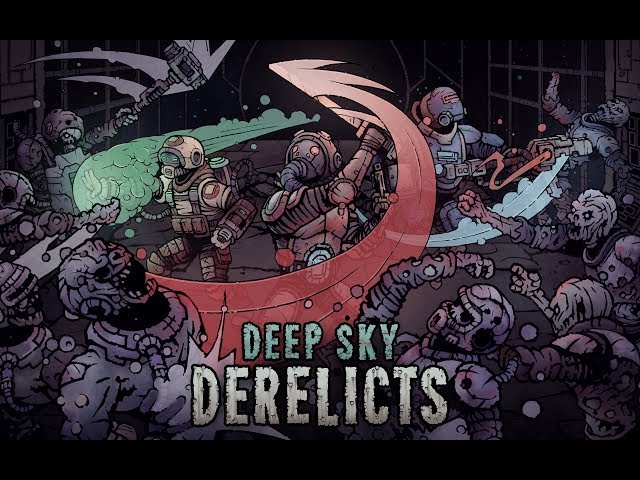 If you like the sound of Deep Sky Derelicts then you can buy it right now on Steam. But, before you plunge into the bellies of metallic beasts you should enter our giveaway to get the game for free. We have 20 free Deep Sky Derelicts Steam keys up for grabs.
If you want to be in with a chance to win a Steam key for Deep Sky Derelicts then you need to enter the competition via the widget below. Every action you complete is worth one entry, too, and you're allowed to enter several times – increasing your chances of winning.
We'll also need your email address so we can contact you about your prize if you win – we don't send you spam, we promise. Please read our terms and conditions before you enter.
While you're here, give us a Like over on the PCGamesN Facebook page, or follow us Twitter, and we'll keep you up to date on all our future giveaways.