The race for the title of World First in Destiny 2's new raid, The Garden of Salvation, is over. An Ascend Clan team finished the challenging new series of boss fights and puzzles, set amongst idyllic fields of wildflowers and killer Vex, about six hours and ten minutes after it went live Saturday.
The members of the winning team are Antivist, Cyber, ExBlack, Monks, Narhzul, and Pash, who played on PC. They'll each be receiving a custom-made Garden of Salvation championship belt from Bungie to commemorate the achievement, and have their names etched into Destiny 2 history.
The race is still on for the rest of the community, of course. Anyone who finishes the new raid within the first 24 hours of it going live receives a special in-game emblem to display on their profiles, while anyone who completes it before October 15 is eligible to purchase (for $149.99) the custom Garden of Salvation bomber jacket.
Ascend's six-hour clear time is in the ballpark of what we've come to expect for World First runs in Destiny 2. The first raid, The Leviathan, was first beaten five hours and 34 minutes after it launched, while Spire of Stars, the 'raid lair' that launched with the Warmind expansion, took six hours and 35 minutes to clear for the first time. The major outlier here was Forsaken's Last Wish raid, which took teams more than 18 hours to finally complete.
Here's Monks' perspective on Ascend's winning run through The Garden of Salvation. The video shows only the successful encounters, so you don't get to see how the team worked their way through each puzzle. But be warned – there are, of course, tons of spoilers.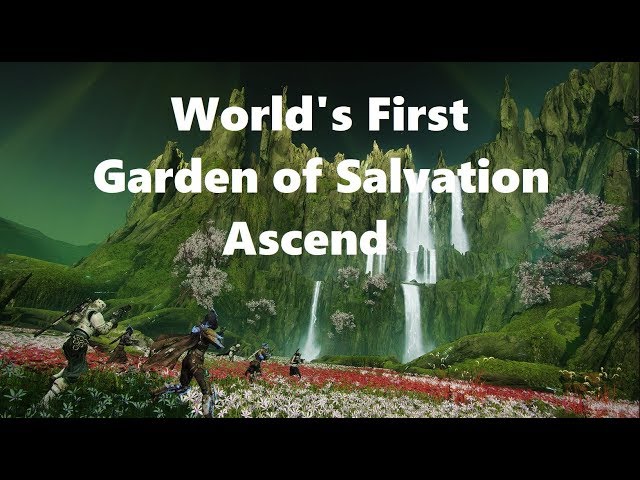 The completion of the raid triggers changes to Destiny 2 for everyone who plays Shadowkeep. The Vex, Destiny 2's race of hive-mind automatons, have appeared in the Moon patrol zone, and the new Vex Offensive co-op mode is now available to unlock (talk to Ikora Rey in the Tower to access this activity). You'll now find Vex lightning storms appearing on the Moon shortly after Public Events wrap up.
Shadowkeep marked Destiny 2's move to Steam and the launch of its free-to-play 'starter edition' New Light. It's quickly amassed a huge player base, hitting a peak of 292,314 players this weekend.