As the Destiny 2 Lightfall release date nears, Bungie teases the terrifying opponents you and your fellow Guardians will be up against as you explore Neomuna in the space game, and fight the encroaching forces of Calus and The Witness. Among these, it warns players specifically about the Tormentors – elite units that Bungie promises are among the most terrifying units to grace Destiny 2 to date.
"We want the Tormentors to be the most scary unit that you've ever fought in the Destiny universe," project lead Catarina Macedo says with a grin. These giant creatures bring not only a massive scythe into battle, but also command a mastery over Void energy that enables them to pull out some devastating attacks. Perhaps their most intimidating tool, though, is something Bungie hasn't pulled out of its toolbox before.
"The Tormentor can grab you," senior sound designer Juan Pablo Uribe explains, "and that's something we've never really done before with a boss." 'Grabbing' perhaps sells things short, as a brief clip demonstrates – with one smooth motion, the Tormentor hooks in a Guardian from range with its scythe, catching them in mid-air with the other hand and effortlessly binding them with Void energy.
Selling the moment even further is the sound design – as you're pulled in by the Tormentor, the background sound around you ducks out, making you keenly aware that you're trapped and at the mercy of this formidable foe. "You really have this intimate moment with this terrifying creature grabbing you," senior sound designer Paxson Helgesen remarks.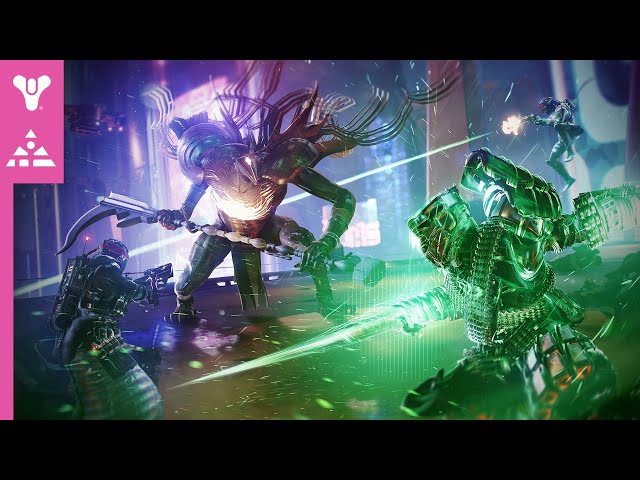 Thankfully, the Tormentors aren't the only sizable sorts you'll encounter while visiting Neomuna. The Cloudstriders, who act as the protectors of the city and join forces with your Guardians to help fight off the invading threat, are also rather large themselves. It's reassuring to have them by your side, but that might be small comfort when the imposing presence of these lumbering, hulking figures clad in crimson are bearing down on you.
You'll want to make sure you're kitted out to deal with them, then – so make sure you're ready with the best Destiny 2 builds and advance knowledge of all the Destiny 2 Lightfall exotics. We've also got all the details on the upcoming Destiny 2 Lightfall raid release date and what to expect – don't be surprised to see a Tormentor or two in your way.