Destiny 2's Lightfall weapons trailer revealed numerous new weapons coming with the forthcoming expansion, including a Stasis glaive, a Quicksilver Storm catalyst, and more. The trailer, which takes place in the bright, cyberpunk-inspired city of Neomuna, showcases everything Destiny 2 players will have to look forward to weapons and gear-wise as they await the Destiny 2 Lightfall release date in the popular FPS game.
Though the trailer is less than two minutes long, it showcases several Destiny 2 Lightfall exotics coming to the game, including weapons and armour pieces that illustrate the limitless potential of the game's systems of perks, mods, buffs, and debuffs.
The weapons are also beautiful, though they may be similar in style to some already in the game. This is because Bungie occasionally recycles content to expedite aspects of the development process.
Destiny 2 Lightfall weapons
The new Destiny 2 Lightfall weapons showcased in the trailer are as follows:
Final Warning exotic Strand sidearm: Charged tracking rounds that seek out nearby enemies.
Deterministic Chaos exotic Void machine gun: Rhythmic debuffs, meaning the fourth shot weakens enemies, and the 16th shot makes them volatile.
Cyrtarachne's Facade Hunter exotic helmet: Grapple gives Woven Mail. Woven Mail induces flinch resistance.
Abeyant Leap Titan exotic leg armour: Barricade spawns additional lashes.
Quicksilver Storm exotic catalyst: Grenades create tangles on kills.
Swarmers Warlock exotic leg armour: Destroying tangles spawns threadlings.
Winterbite exotic Stasis glaive: Freeze enemies with frost orbs.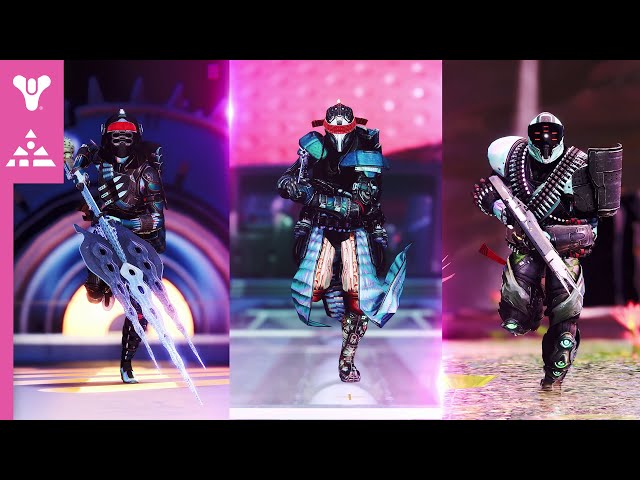 The Lightfall weapons and gear trailer also provided further insight into the Destiny 2 Strand subclass coming with Lightfall. In the trailer, players can see how they will move with Strand and how Strand effects impact enemies.
The trailer also offered more subtle hints as to what to expect in Lightfall, showcasing battles against Vex enemies, Dark Cabal forces, and a massive tank, which players will presumably have to take out as part of the campaign.
There are only a few weeks left until the end of Destiny 2 season 19. Before jumping into Destiny 2 season 20, join fellow Guardians to complete this season's activities, such as the Destiny 2 Revision Zero exotic quest and the Destiny 2 Spire of the Watcher dungeon in one of the best multiplayer games on PC to play with friends.