A Destiny 2 season 21 teaser confirms a beloved character is likely still alive. If you haven't watched it yet, you'll want to check out the new, 9-second Destiny 2 Season of the Deep teaser immediately before we jump into what it means for Bungie's popular FPS game.
Released as part of Bungie's This Week at Bungie (TWAB) series, a voice familiar to longtime players shares a distress message.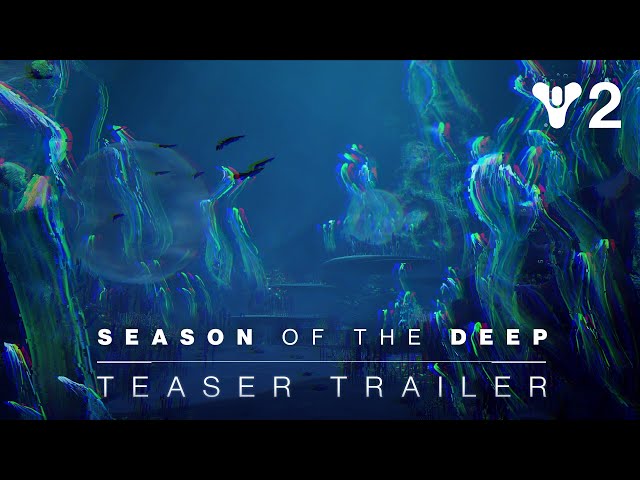 "If there are any Guardians listening, this is Deputy Commander Sloane requesting emergency support," a voice says over static on an intercom. Imagery shows two ships traversing through space over a large body of greenish water.
This confirms Sloane, who has been missing in action since the planet Titan disappeared from the game after being usurped by the Black Fleet back in 2020, will return in some way as part of Destiny 2 season 21.
This also confirms theories that Titan will return in some manner, as the greenish water is indicative of the moon's aesthetics within the game world. While the Bungie team developed a lore reason for the planet's removal alongside other destinations such as Io, Mercury, and Mars, the reality is that the team made the difficult choice to vault the moon of Saturn and its related activities as part of a complex strategy to improve the core game.
While this doesn't necessarily mean Titan would be reprised as a fully explorable destination, it does mean players could see bits and pieces of it in some way. For instance, Mars initially returned to the game as an outpost and eventually became the setting for a Heist: Battlegrounds in-game activity and the Destiny 2 Spire of the Watcher dungeon.
So perhaps it's only fitting that the TWAB also teased its forthcoming dungeon, which it referred to only as [redacted], and announced it would launch at 10am PDT / 1pm EDT / 5pm UTC on Friday, May 26.
Titan's return is not a total surprise based on information presented in the Destiny 2 Lightfall Strider quest, which included a data transmission that suggested such.
"Urgent: Saturn VI contains vital information. Enemy of Witness on Titan. If still living, preservation paramount. Do not waste time," the transmission says.
Contextually, the planetary imagery in the Destiny 2 Root of Nightmares raid could also provide context for Titan's return. Some have speculated that because players defeated Zo'Aurc, Explicator of Planets, in the raid, this releases destinations from their grasp (though, notably, Titan is not technically a planet).
Sloane's likely return is also not a total surprise, as an IMBD listing previously shared that the character's voice actor would be involved with Lightfall somehow.
The TWAB also includes additional teases from the forthcoming season, including sea-themed ornament sets and location imagery.
While the new season is coming quickly, there's still time to get your hands on all the Destiny 2 Lightfall Exotics, so you'll be geared up to take on whatever Titan throws at you as we go deep into the multiplayer game's lore later this month.