More Diablo 4 patch notes are upon us, as a Diablo 4 update 1.02 hotfix rolls out with changes to the game's hardest fight as it returns to action. The pinnacle boss, designated as the ultimate challenge for players at the Diablo 4 max level cap, was disabled temporarily for unspecified reasons, but we now know what's been adjusted. These Diablo 4 patch changes also include tweaks that will affect players a little earlier on in the RPG game, along with a fix for an infinite experience farm.
The level 100 pinnacle boss was yet to be cleared on the live version of the game when it was taken out, although players had beaten it on the game's preview build. That was before significant nerfs to the best Barbarian build, however. Twitch streamer Max 'wudijo,' who was the first completely solo player to reach level 100 in the game's hardcore mode (where death is permanent), gave the pinnacle boss a very impressive try after reaching 100.
The attempt sees wudijo make it to the second phase after nearly half an hour of action, but he is forced to teleport out when it appears certain he won't survive. "The fight is too long," he exclaims, "the potions are not enough." His Rogue might actually be among the most well-suited of the Diablo 4 classes to outlast the encounter, too.
Good news then, because Blizzard says it has now reduced the bosses total health – but its damage dealt has gone up, so be careful what you wish for. Shortly following the update, Diablo community manager Adam 'PezRadar' Fletcher confirms on Twitter, "We have removed the restriction on accessing the level 100 pinnacle challenge."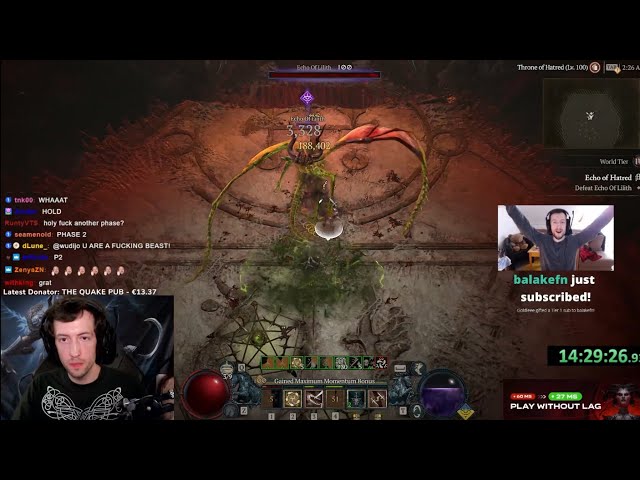 Elsewhere, the level ranges of Diablo 4 world boss fights have been increased when playing on World Tiers three and four, Elite monster spawn rates in dungeons have been adjusted, and an infinite experience farm using Fly Hosts has been removed. There's also a fix to the Legendary Aspect of Unstable Imbuements, a popular tool for Rogue builds that causes your Imbuements to explode around you when cast.
Diablo 4 patch notes – 1.02 hotfix 6 and 7 – June 8, 2023
Here is everything in the Diablo 4 patch notes 1.02 hotfix 6 and 7 released on June 8, courtesy of Blizzard:
Boss Changes
Increased the level range for World Bosses on World Tier 3 and 4.
Increased the total damage dealt by the Level 100 Pinnacle Boss and reduced their total health.
Dungeons
Made further adjustments to Elite spawn rates in dungeons.
Fixed an issue where players would teleport to the wrong location in multiple dungeons while transitioning through levels of the dungeon.
Monster Changes
Fly Hosts and resurrected Fly Hosts from Trembling Masses will no longer be an infinite source of experience.
Class Changes
Rogue
Advanced Twisting Blades' Cooldown reduction now matches its tooltip.
Legendary Aspect Changes
Aspect of Unstable Imbuements no longer excessively benefits from damage amplification effects.
Miscellaneous
If you're getting deeper in past the campaign now, be sure to read up on how Diablo 4 Sacred items work. Wherever you are, we're sure you'll benefit from our Diablo 4 leveling guide to earn XP as fast as possible, and we've got everything you need to know about the Diablo 4 battle pass and when you can earn rewards from it.