The next Dreamlight Valley update is almost here, but Gameloft already has plans for what's coming next in the Disney life game. A new sneak-peek trailer for the Disney Dreamlight Valley Lion King realm shows off everyone's favourite furry felines, Simba and Nala, as the king returns to claim his crown from the slinking Scar.
Revealed as part of the latest Nintendo Direct showcase, the teaser trailer shows us a look at the update coming in April, which will see the pairing of Simba and Nala arrive in your valley alongside their own realm. Gameloft also teases a new recipe as part of the update – there isn't anything that obviously fits that bill aside from the handful of grubs roasting tantalisingly on a burning log, however, so we might be in for some more 'jungle fare' than usual.
The Dreamlight Valley Lion King update releases in April 2023 as a free update for Disney Dreamlight Valley. We already got a glimpse of this as part of the planned roadmap for the year, but getting official confirmation that both Simba and Nala will be joining is welcome news.
Gameloft promises "a brand new, mysterious storyline" taking place in the new Lion King realm, which will see the pairing officially arrive. With the devious Scar already an established part of Dreamlight Valley (and having already learned some important lessons about how to behave himself in the fun-first fantasy neighbourhood), it'll be interesting to see how the Simba and Nala's arrival shakes things up.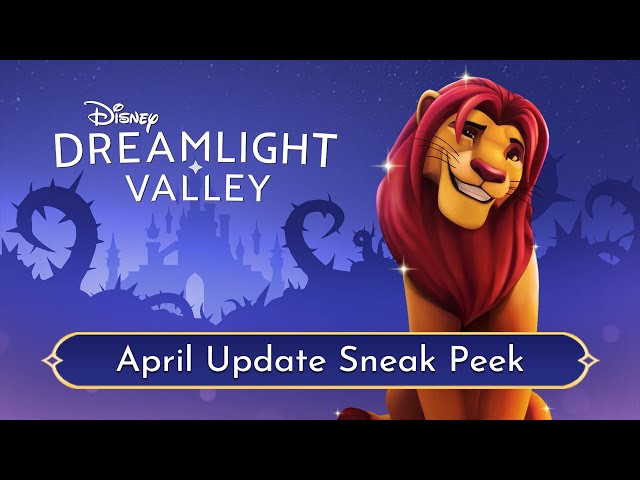 There's no word yet on Simba's companions Timon and Pumbaa, although the pair have already previously made an appearance in teasers in the past – and really, what phrase sums up the easy-going nature of life in Dreamlight Valley better than 'Hakuna matata?'
In the meantime, the Disney Dreamlight Valley Encanto Update arrives on February 16 as part of Dreamlight Valley update 3, titled 'A Festival of Friendship.' Alongside Mirabel, it also includes the arrival of Olaf from Frozen and a new bunny companion. It also promises full door customisation, in news that I personally am unreasonably excited about.
Our ultimate Disney Dreamlight Valley guide has everything newcomers and veterans alike need to know, and we've also got all the information you need to collect all the Dreamlight Valley recipes and make friends with all the Dreamlight Valley animals. Check out more of the best Disney games on PC if you just can't get enough of the magic.