Want to know the next Disney Dreamlight Valley update release date and who's coming with it? Dreamlight Valley updates add new characters and quests to the life sim, and we already know there's a lot of room for new faces to be added. Fans on social media have been requesting the likes of Cinderella, Belle, and Stitch – and with a certain blue alien having crash-landed in the valley last year, we know Gameloft are listening.
Despite being in early access, the Disney game cemented itself as one of the best PC games of last year, with regular content updates, a vibrant community, and speedy and regular patches when bugs are found. We've now had three large content updates since the game launched just a few months ago. With "an almost unlimited source" of classic characters to choose from, there's no sign of these updates slowing down yet, with Dreamlight Valley update 4 adding more Lion King characters to the pride next month.
Next Dreamlight Valley update
Following the Festival of Friendship update on February 16, 2023, the next Dreamlight Valley update, featuring Lion King characters, is scheduled for some time in April.
On January 25, Gameloft finally revealed a long-awaited roadmap for early 2023, teasing what is to come in Dreamlight Valley this year – and it didn't disappoint. The Festival of Friendship kicked of the year with new Mirabel quests and Olaf quests, bringing both new characters to the valley with their own unique storylines.
The next Dreamlight Valley update will be in April, and will add more stars of the Lion King as Simba joins his uncle Scar in the Sunlit Plateau – and he of course has Nala by his side. We don't much more about the update yet, but the teaser trailer shows that the story will start in the new Lion King realm, so gather those Dreamlight Valley Dream Shards to ensure you have enough Dreamlight to unlock the big cats' door.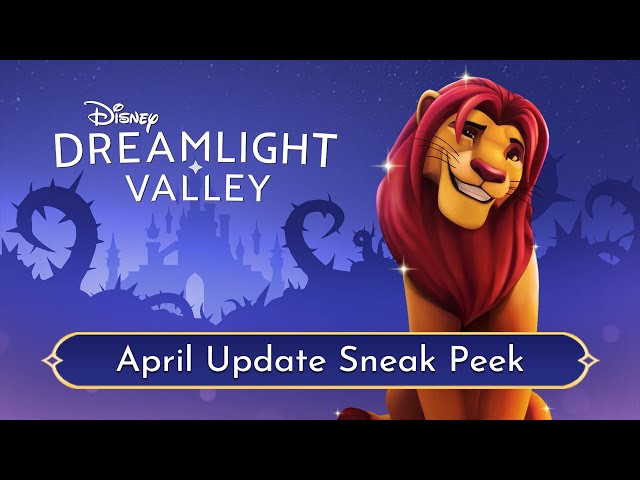 Dreamlight Valley update schedule
It seems as though, for now, Gameloft are sticking with a two-monthly update schedule, with new characters added to the game in October, December, and February so far, will April sticking to that pattern. This would suggest that the "early Summer" update could be scheduled for June, with potential for another three updates in the tail end of the year.
All Dreamlight Valley updates so far:
October, 2023: Scar's Kingdom added Dreamlight Valley Scar quests to the Disney game, revealing the new Mines, and new resources.
December, 2023: Update 2, Missions in Uncharted Space let you unlock Stitch in Dreamlight Valley, and Toy Story characters Buzz and Woody.
February, 2023: A Festival of Friendship reunited Olaf with Elsa, and introduces us to Mirabel Madrigal and the Mini-Casita.
That's everything we know about what might be coming in the next Dreamlight Valley update and its release date, but that doesn't mean there's not plenty to keep you busy right now. Ensure you're not missing out on the latest Dreamlight Valley codes, and level up all the Dreamlight Valley characters already in the life game by giving them their favourite gifts, including some Dreamlight Valley recipes, and make sure you're ready to go when the new arrivals get here.