It's Easter Sunday, but around the world, most people are stuck inside to wait out the coronavirus pandemic. That means no large, public gatherings – the kind that are traditionally an integral part of the holiday. While it's hardly the same as attending a real-life egg hunt, several videogames are hosting online activities that are at least nominally themed around Easter.
One faith community in Texas has taken the step of moving its annual Easter egg hunt into Minecraft. The Tate Springs Baptist Church in Arlington is set to hold a virtual egg hunt in Minecraft Sunday afternoon, thanks to the efforts of family pastor Curtis James, the Albany Times-Union reports. James created a brief video for the church's website that allayed parents' fears about their kids playing online, and the event has attracted hundreds of signups from across the United States.
Through April 28, Roblox is hosting a limited-time Egg Hunt event. Players can search for 49 "classified eggs" across the Roblox universe, each of which contains a new hat. Finding all the eggs grants players the exclusive 'FabergEgg' reward once the event wraps up.
For my money, though, the best Easter event in videogames is always Dying Light's Harran Egg Hunt, which is running through tomorrow. It's weird, it's fun, and obviously it involves dismembering zombies.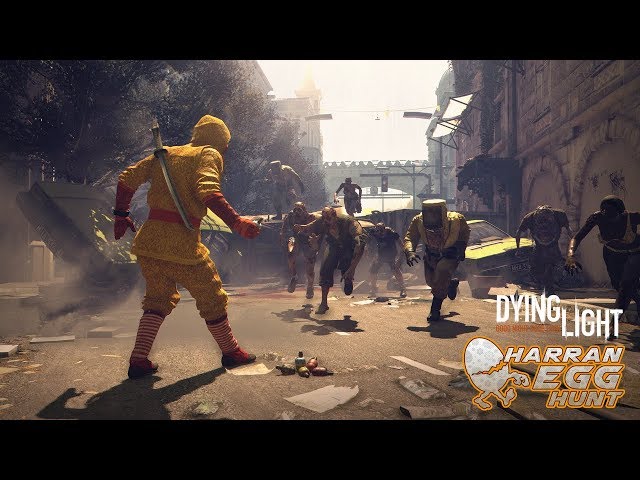 Your job during the Harran Egg Hunt is to track down 'bunny zombies,' which can be identified by the distinctive white and pink jumpsuits they're wearing. Kill a bunny, and you can steal its 'eggs,' which are actually elementally-charged grenades.
Collecting 10 eggs will earn you a new golden weapon, and 30 eggs will grant you the Cock-A-Doodle-Do Chicken Ninja outfit. There's a community challenge, too – if players collect 1.5 million eggs during the hunt, everyone who participates will get three golden weapons – a modded sword, a modded machete, and a modded baseball bat.
It's probably best to leave theology at the door for this one, but hey, Dying Light is sort of about new life, right?
However you choose to spend it, have a safe and happy holiday.