It's been a long time since I've fired up Skyrim, but Apotheosis might be the mod that gets me back in. This hugely ambitious project is nearing completion, and based on the trailer you can view below, it takes the game in a spooky and exciting new direction.
That direction, specifically, is Oblivion and its 16 different realms. You'll traverse the various wastes of Oblivion, visiting the land of the dead and Battlespire – all places explored or discussed across the Elder Scrolls franchise and lore. Apotheosis features massive bosses that each require different tactics and equipment builds, and you'll be able to craft new armor, weapons, and spells as you reassemble the Heart of Lorkhan.
Apotheosis has been in development for several years now, and centers around the Dreamsleeve, a somewhat obscure plane of existence where the souls of the dead congregate in a semi-dream or nightmare state. Comparisons to FromSoft's games are unavoidable here: the look and feel of Bloodborne and Dark Souls run through this spectacular mod, which features imposing fortresses, haunted libraries, cruel iron spikes, and a surreal gothic atmosphere throughout.
Here's the new trailer, along with an update from the developers: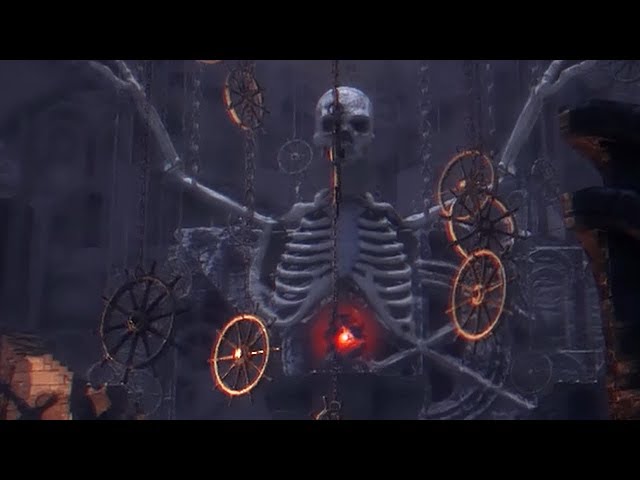 The world is fully hand-crafted, the developers say, and it's fully voice-acted. The bosses in particular look massive, sometimes on a Lovecraftian scale, and the idea of a realm that feeds on the beings that live within it is one that provides the setting for a compelling eldritch story.
You can explore the 16 realms in whichever order you see fit, returning to the Dreamsleeve to rest and replenish – or to explore, since the Dreamsleeve also holds its share of secrets.
The mod's developers say Apotheosis is already fully playable, and that all that remains to finish some quest implementation, scripting, and final testing – which means we should be able to play it ourselves before long. You can follow development over on the Apotheosis ModDB page.
Hungry for more? Check out our list of the 100 best Skyrim mods.