Escape from Tarkov players got a pleasant surprise as the past week wound down: in a surprise update Friday, Battlestate Games added the Shpagin PPSh-41 submachine gun and the Colt M1911 pistol, two weapons guaranteed to make waves in Tarkov.
If you've played Escape from Tarkov at all, you'll know that it's hyperfocused on its guns, so any new addition to its available arsenal is potentially an important shift in the way the loot-based shooter is played. That's certainly true for both the PPSh-41 and the 1911, which for different reasons have the potential to become player favourites for different objectives. The guns were added to celebrate the 75th anniversary of VE Day, which in Russia is known as the Victory in the Great Patriotic War.
Battlestate Games had teased the PPSh-41 with a tweet at the end of April, but it was nonetheless a surprise to find it added to the game May 8. In-game, it's a beast in the tight spaces of Factory as one might expect from a submachine gun that sprays the 7.62mm Tokarev round, although you may have trouble sourcing one of the weapon's distinctive 71-round drum magazines – the item is currently selling for more than three million roubles on the Tarkov flea market. The gun itself is available from Prapor at level two.
Escape from Tarkov streamer DeadlySlob provides a great initial rundown on the two weapons in this video: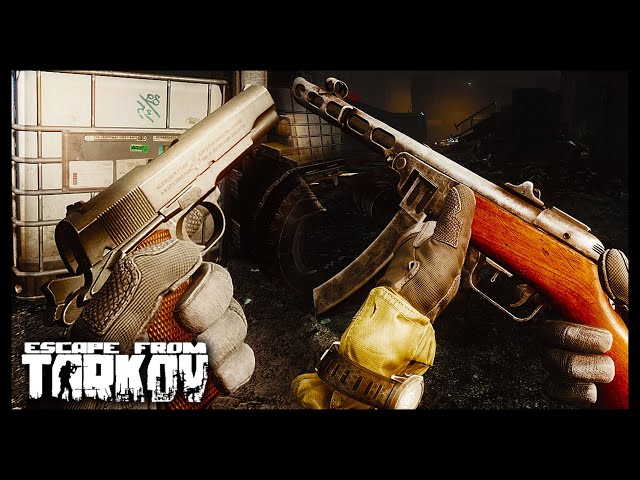 The 1911 is a pistol just about any FPS player is going to be pretty familiar with, and the Tarkov incarnation of the classic American sidearm looks like it's priced to sell. The pistol fires .45 ACP rounds, which have also been added to the game in two variants: there's the .45 ACP full metal jacket round, which you can buy from Peacekeeper at level two along with the pistol itself, and a round called the .45 RIP, which has a higher base damage stat at the expense of the FMJ round's high penetration stat. You can pick that round up if you've leveled Mechanic up to four, but DeadlySlob suggests that the higher penetration of the FMJ is the way to go, especially if you're just going scav hunting: the FMJ will go through class three face shields most of the time, which allows for a pretty cheap pistol-based build for cleaning up scavs.
As DeadlySlob points out, the next big account wipe is coming soon to Escape from Tarkov, so now's a great time to jump in and experiment with the new gear. Be sure to check out our guide to Escape from Tarkov ammo if you want some pointers on which rounds to bring into the raid.