Following recent news that the creators of the Fallout: Miami mod have started the project over with a whole new worldspace, we've been given a good glimpse at how the project's now looking. The Fallout: Miami YouTube channel have posted an unlisted video showcasing some cool new alpha footage of the mod – and it's impressive.
The Fallout: Miami – Spring 2019 Exploration Footage video, which you can check out below, shows just under three minutes of gameplay, featuring first- and third- person views of the party paradise environments in all their post-apocalyptic glory. We see a seaside boardwalk all broken up, with lamppost banners in tatters, iconically colourful buildings blown to pieces from the blast, and even a look at what seems to be a more residential area, populated with palms and former homes falling apart.
All of the buildings and landscapes are eerily reminiscent of the city's look and feel, but with the total devastation that defines Fallout 4's environments. On the plus side, however, the palm trees seem to be doing ok.
Perhaps the Floridian waters of post-apocalyptic Miami are a little less radioactive than those of Fallout 4's Commonwealth, however, as the player character can be seen wading around in the glittering blue wash seemingly without a care in the world (or without picking up some serious rads damage, at least). However, the video states that the project is very much a work in progress and everything you see is subject to change, so perhaps the rads will come later. Gulp.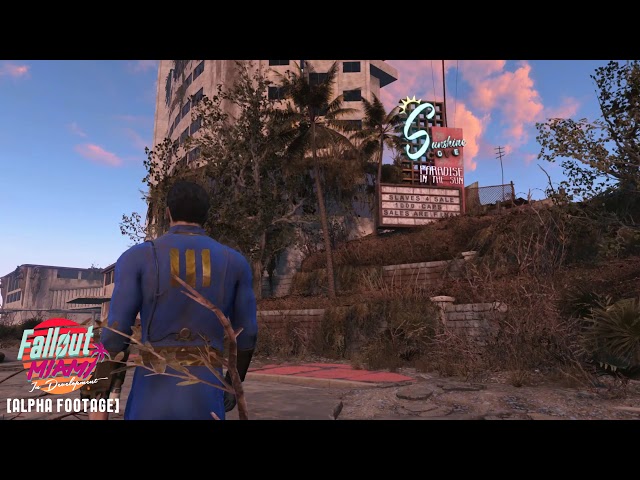 If you're getting excited about jumping into Fallout: Miami, fortunately it looks like the project is coming along nicely. A news post on the project's website says the creators are "a little deeper into development than we were in late 2018 and early 2019. That means things are getting more involved" and adds that they've "also got a little something-something you might enjoy coming up very soon", advising readers to keep an eye on their YouTube channel. Hopefully this little "something-something" will get revealed in the Summer update.
More modding: Check out the best Fallout 4 mods
If you're keen to see the new-look Fallout: Miami, check out the video above. You can also head over to the Fallout: Miami website, which has a load of cool information about the mod's story and development.