Fallout: New California, an enormous mod for Obsidian's magnificent RPG, releases today. The mod offers an entirely new start to the game, with its own story and worldspace set in the previously unseen Wasteland of New California, and at time of writing will go live in less than four hours.
In Fallout: New California, you play as an orphaned teenager from Vault 18. Hidden away high in the San Bernadino mountains, the vault's scouts have kept their home hidden for decades. Set 20 years before the events of New Vegas, the mod sees New California Republic still struggling for control, as a war is rages between multiple factions in the foothills beneath your vault.
The NCR – which you'll remember as a significant force from New Vegas – has to contend with an alliance of raiders, an army of Super Mutants, and a squad of enclave soldiers. But it's the arrival of the kid from Vault 18 that will have the greatest impact on the burgeoning republic. You can find out more on the game's ModDB page, or in the video below.
Fallout: New California started life all the way back in 2012 as Project Brazil. Part one arrived in 2013, but work started on the rest of the mod in 2015. Three years later, the rest of the game is finally here.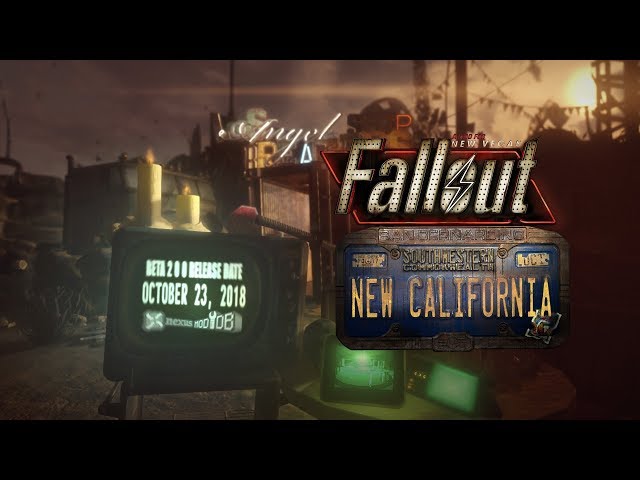 Rest assured, it's very much a Fallout game. The SPECIAL system returns, as do acquired perks and a collection of companions. There's hours of voice-acting, and from what the trailer seems to show, some incredibly detailed environments. If you want to download the mod, it'll be available from just after 14:30 BST (9:30 EDT, 6:30 PT), and there's a walkthrough on the game's ModDB page to help get it set up. New California boots up as a new game from New Vegas' menu, so your pre-existing saves won't be affected.
If you're in the market for as much Fallout as possible, then you'll be glad to know that the Fallout 76 release date is now very close indeed. If you prefer your wastelands to be put together by the community, check out Fallout Miami. The mod, which is still in development, takes players to sunny Florida, and has you face off against Fallout 2 and 3 antagonists The Enclave.