Far Cry 5 has been to some strange settings for its DLC episodes, but it's finally time to return to that most familiar gaming ground: zombies. Ubisoft has confirmed the release date for the game's third and final DLC pack, called Dead Living Zombies, and provided a new trailer showcasing what to expect.
Dead Living Zombies launches on August 28. There's a requisite B-movie theme, as the teaser has an overly enthusiastic director telling you all about his brilliant art – basically Romeo and Juliet with zombies, and Romeo is a mash-up of all sorts of monsters. Then there's a Bridges of Madison County reference, and the requisite allusion to the Marvel Cinematic Universe. It all checks out, and there are seven such scenarios.
There's a brief snippet of gameplay showing some undead animals, flaming zombies, and a big, crystalized monster. The most interesting tidbit for Far Cry fans comes in the final snippet, with a massive, lizard-like creature with glowing highlights rearing back to attack. That looks a whole lot like a Blood Dragon – the titular beasts of what remains Far Cry's most memorable expansion.
Far Cry 5 DLC hasn't fared quite so well on its own merits. Our Hours of Darkness review paints it as an empty and repetitive addition, which mirrored the wider response to the add-on. Lost on Mars fare somewhat better with more unique weapons and enemy types, so hopefully Dead Living Zombies can continue the upward trend.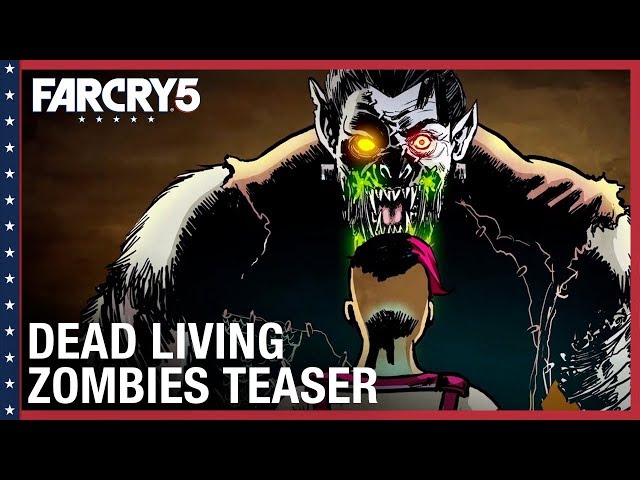 Get your taste in the trailer above, or you can check out the mirror if Ubisoft's region locks are keeping you down.